Starbucks Coffee College! Does this mean I'm going to study Starbucks coffee to be a barista? Not exactly, haha! Starbucks conducts these Starbucks Coffee College events worldwide (in Seattle they had it for 2 days!) from time to time. For this they invite select media and top Starbucks Rewards customers. Lucky for me Starbucks Philippines held their first ever Starbucks Coffee College event in Quezon City last month!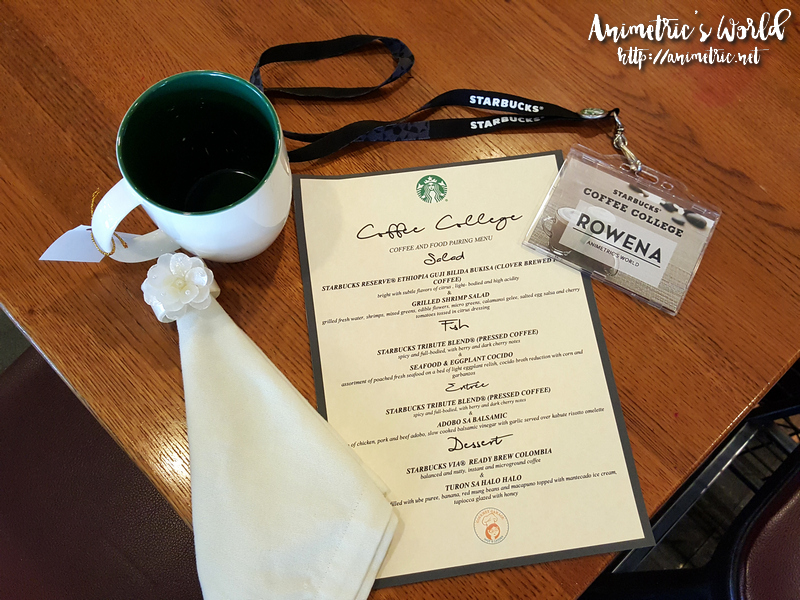 We each got a Starbucks mug and a Starbucks lanyard with an ID. We were also given menu sheets for the coffee and food pairings.
The Starbucks Coffee College was conducted at the Starbucks Reserve store along Tomas Morato.
We went through the diverse flavors of coffee influenced by soil, geographic microclimate, altitude, and production techniques. Starbucks sources coffee from Latin America, Africa, and Asia Pacific regions. Different regions produce coffees with distinctive aroma, acidity, flavor and body which complement certain savory and sweet dishes.

We smelled peanuts while sipping the nutty Starbucks Colombia blend, grapefruit for the fruity Kenya blend, and mushroom for the earthy Sumatra blend.
After the talk and the coffee cupping session, our sumptuous lunch doubled as a food and coffee pairing session starting with the Grilled Shrimp Salad paired with Starbucks Reserve Ethiopia Guji Bilida Bukisa (Clover Brewed Iced Coffee). The salad was so pretty I almost didn't want to touch it. The salas is comprised of grilled freshwater shrimps, mixed greens, edible flowers, and cherry tomatoes drizzled with calamansi gelee and topped with salted egg salsa. It went so well with the icy cold citrusy coffee. Mind blown. Tastebuds blown.
After the salad came the Seafood & Eggplant Cocido — assorted poached fresh seafood (in this case fish, shrimp, squid, and mussel) stewed in what tasted like a tomato-based sauce. It was paired with Starbucks Tribute Blend (Pressed Coffee).
For the main course we were served Adobo sa Balsamic. It's chicken, pork, and beef adobo slow cooked in balsamic vinegar with garlic over an omelette-wrapped risotto with mushrooms. We paired this dish with the same Starbucks Tribute Blend (Pressed Coffee) from the previous course. This is probably the best adobo I've ever eaten in my life.
For dessert, we had Turon sa Halo Halo which came with a sachet of Starbucks VIA Ready Brew Colombia. A crisp spring roll is filled with ube puree, banana, red mung beans, and macapuno topped with mantecado ice cream and honey-glazed tapioca.
I thought we were going to drink the Starbucks VIA Ready Brew Colombia but we were told that it was for sprinkling on top of the ice cream! OMG, the coffee sprinkled over the ice cream made it soooooo good. It's so addictive that most of us nearly finished the sachet. I just discovered a new way to enjoy the Starbucks VIA Ready Brew!
After lunch, we explored different methods of brewing coffee and as it turns out you can actually cold brew your coffee with cold water! It takes longer but it gives you a totally different flavor experience. We also watched a latte art demonstration by 2015 Starbucks Philippines Coffee Ambassador Pao Legaspi.
Thank you so much Starbucks Philippines for inviting me to take part in the Starbucks Coffee College! I had the most awesome time learning more about coffee plus I really enjoyed the food and coffee pairings!
You too can experience the wonderful world of Starbucks coffee this weekend at the Starbucks Philippines Coffee Appreciation Festival! It will be held at the Grand Atrium of the Shangri-la Plaza Mall from 10am onwards. The first 500 attendees EACH DAY who complete the World of Coffee Tour and the brewing demonstrations will take home an exclusive Starbucks Coffee Explorer Kit!
Like this post? Subscribe to this blog by clicking HERE.
Let's stay connected: