The weekend is here at last! Since it's Chinese New Year, we have no work yay! Why don't we make Star Margarine Fairy Bread? Fancy as it sounds, it's super fun and easy to make. You don't even need any complicated tools or ingredients for it! Fairy Bread is actually very popular with kids in Australia and New Zealand.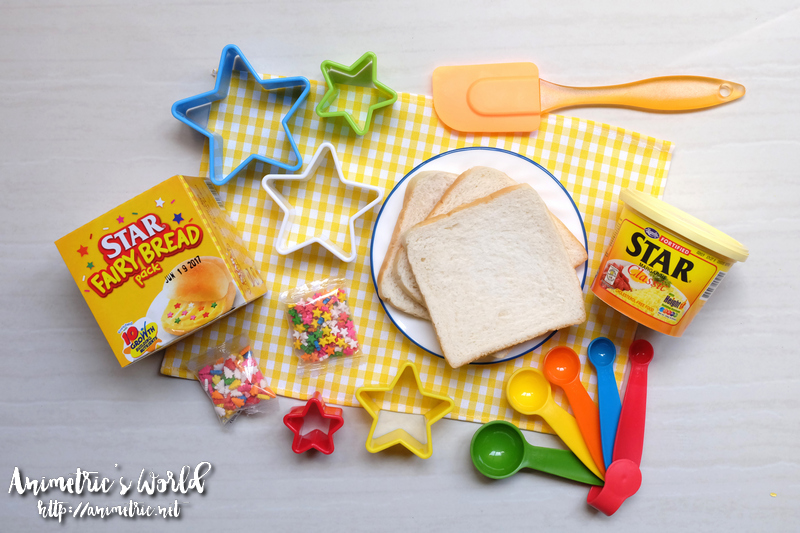 So what do you need to make Star Margarine Fairy Bread? Bread, cookie cutters, and a Star Fairy Bread Pack which contains a tub of Star Margarine and a small bag of colorful candy sprinkles. There are 4 shapes: sprinkles, stars, hearts, and Christmas trees.
Okay first things first. Take a piece of bread and spread Star Margarine generously over the surface until it's completely covered. You can use any bread — white bread, wheat bread, multi-grain bread… etc. This step is really easy to do because Star Margarine is incredibly smooth, creamy, and spreadable.
Use a cookie cutter to cut the bread into the desired shape. Pour candy sprinkles all over the bread surface to they stick to the margarine. If you don't have cookie cutters, simply cut the bread diagonally to form triangles.
Tadaa! You now have Fairy Bread. Now wasn't that quick and easy?
Star Margarine Fairy Bread is special because the sweet candies complement Star Margarine's slightly salty flavor.
My daughter actually had Star Margarine Fairy Bread as an after school snack last Friday. She told me she was hungry and bored so I told her to go make Fairy Bread lol. How's that for a 2-in-1 solution?
Star Fairy Bread Packs are available at all leading supermarkets nationwide. Want to win a Star Margarine Fairy Bread gift pack? Head on over to the Official Star Margarine Facebook Page to find out how.
Like this post? Subscribe to this blog by clicking HERE.
Let's stay connected: