This summer, RACKS is offering more than just ribs. From now until June 30, 2019, we can enjoy delectable Butterfly Spring Chicken cooked 3 ways — Hickory Smoked Spring Chicken, Zesty Grilled Lemon Garlic Spring Chicken, and Chimichurri Spring Chicken. You can have a whole order to share for P495 with either Curry Rice or Fried French Green Beans. Or you can get them as solo Blue Plate meals… which is what we did. All the Blue Plate meals come with 2 regular sides, rice, and a drink.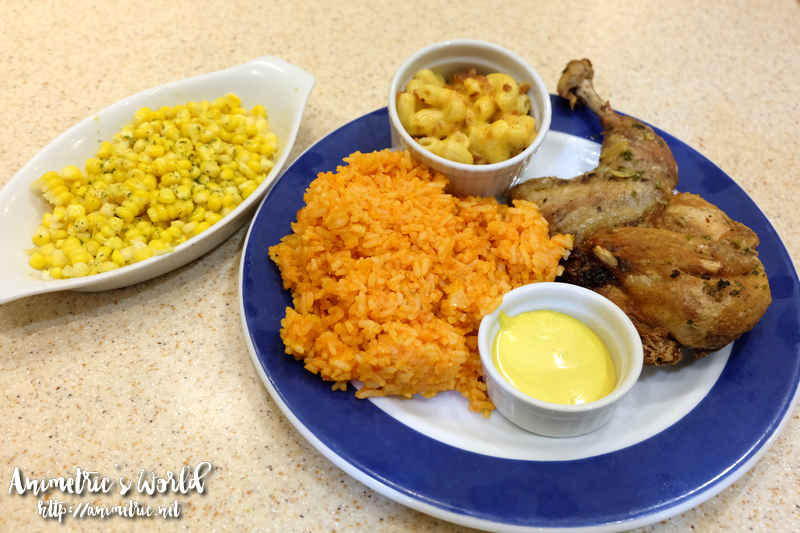 Hubby decided to try the Chimichurri Fried Spring Chicken Blue Plate (P285). This comes with java rice by default. Hubby opted for Corn on the Cob and Mac & Cheese as his sides. The Chimichurri Spring Chicken is fried so it's crunchy.
I had the Lemon Garlic Grilled Spring Chicken Blue Plate (P285). This comes with curry rice by default. I picked Potato Salad and Fried French Green Beans as my sides. I love how tender and juicy the chicken is. They don't skimp on the lemon and garlic too. I liked this better than the Chimichurri which I found a bit dry. The Fried French Green Beans are so good, I'd like to try recreating them at home!
My daughter also picked the Chimichurri Fried Spring Chicken Blue Plate. She had Mashed Potatoes and Mac & Cheese as her sides. No one ordered the Hickory Smoked flavor which comes with plain rice by default. Hickory Smoked would mean it would have a similar flavor profile to RACKS' ribs.
RACKS also has refreshing mocktails for P175 each to cool you off this summer. We tried the Classic Mojito. It's a carbonated minty lime concoction which goes very well with just about everything in RACKS' menu. There other mocktail flavors are Mellow Watermelon and Very Strawberry.
While we really wanted to order their new Ultimate Banana Split (P295), all of us had sore throat at the time so we had to skip it. It seems awesome though because the bananas are fried and crunchy. The ice cream flavors are not the usual: strawberry, kesong puti, pastillas, avocado, and vanilla. Plus there are cookie pieces!
You have until June 30, 2019 to try RACKS' summer offerings. 😀
Like this post? Subscribe to this blog by clicking HERE.
Let's stay connected: