In the middle of gift shopping at the Shangrila Plaza Mall last December, we decided to try out one of the new restaurants at Shangrila's East Wing. Green Pastures was our original target but the line was sooooo long we decided to go somewhere else.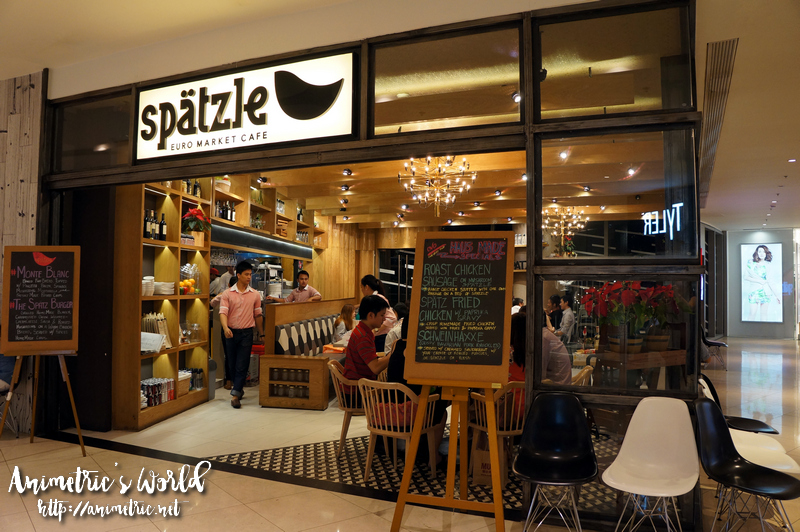 We ended up at Spatzle Euro Market Cafe.
I actually took this photo after our dinner at Spatzle. There were less people beforehand.
The tableware organizer was decked out with Christmas decor.
We ordered right away upon being seated. Hubby went for The Spatz Burger (P350). It's an open-faced burger with 200g of pure ground beef, caramelized onions, whipped cream cheese, salsa, and roasted mushrooms all piled on top of a bagel. It's crowned with lots of crispy thin onion strings too. A small dish of spiced chips and a dollop of mayonnaise came with the burger. I regretted not ordering this because it was sooooo good. It was actually the best thing served that night. The beef was so tender and tasty and the onions, cream cheese, and mushrooms all went so well with it. I think it's probably one of the best burgers I've ever tried.
I ordered Spatz Haus Breakfast Sausage w/ Cheese Spatzle (P285). The menu described Cheese Spatzle as cheese potato dumplings but it's really a bajillion tiny pieces of what seemed like a cross between risotto and pasta. It's chewy as if made of dough. I didn't really taste much cheese. Anyhow, there were also 2 sausages and a fried egg on my plate. This is part of their All Day Brunch menu. The sausages had a medicinal taste which I wasn't too fond of. It reminded me of the sausage in McDonald's Sausage McMuffin which I also don't like. This dish was quite a letdown after having a piece of The Spatz Burger. I did finish all the spatzle and the egg because I was hungry. I just couldn't manage the sausages.
My mom-in-law ordered Roast Chicken Sausage on Mushroom Spatzle (P295). Again, the spatzle was unimpressive. If a restaurant was named Spatzle you would expect really great memorable spatzle, right? What I liked best about the spatzles was the chewy quality that makes you want to well, chew. Taste-wise both the cheese and mushroom spatzles were nothing special, kind of bland even. The chicken sausage was pretty forgettable too. In fact, I no longer remember what it tasted like. I do recall being unimpressed.
Although I only liked the absolutely wonderful burger, I think the place is nice because of the bright and cheery interiors. Prices are reasonable too as most of the things on the menu are in the P200+ to P300+ range. I would go back only for the burger and maybe to try some of their desserts which struck me as interesting. I don't think I need another order of spatzle or sausage to prove to myself that they're not all that, lol!
Spatzle Euro Market Cafe
5/F Shangrila Plaza Mall East Wing
Shaw Blvd. cor. EDSA, Mandaluyong City
Like this post? Subscribe to this blog by clicking HERE.
Let's stay connected: