I'm free today! Yes, I can eat again, lol. I went through The Sexy Chef's Eat Clean Detox Diet Plan the past week and I ate nothing but portioned vegetables — no meat, no dairy, no wheat… yesterday was the last day. This morning, I decided I was going to have SPAM Tocino for breakfast. I bought this last week and I've been itching to try it ever since.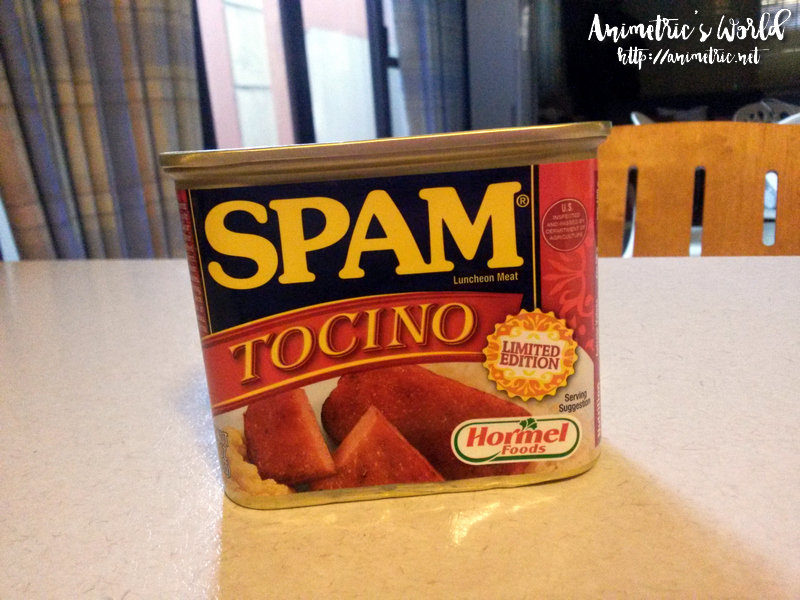 I first saw SPAM Tocino being flashed on my Facebook feed. At first I thought it was a joke. Then I followed the links and found out it's an actual product and that the SPAM online store in the US was selling it for a little over a two dollars per can. I wasn't sure if it was going to find its way to our shores since it's marked as a "Limited Edition" product. I read that this is actually based on Mexico's Tocino. Anyhow, I searched far and wide for this — Rustans Supermarket in Rockwell and San Juan, SM Hypermarket North EDSA, Robinsons Supermarket in Galleria and Magnolia, Metro Supermarket, Hi-Top Supermarket… finally, I found some at SM Hypermarket in Jazz Mall. I grabbed 6 cans off the shelf, because who knows when I would find it again. It cost P105 per can.
Anyhow, there is a specific way of cooking it. You slice the spam, put it in a pan and then add enough water to cover the slices. You cook it with water until the water is reduced into syrup. Once the slices caramelize, you can turn up the heat to sear both sides. I like the idea of cooking in water, at least that's minus our oil consumption.
This is the finished product. We followed the cooking instructions.
Verdict? I like it! Well, we all did. It's not as salty as the other variants and my kids said it tastes good. It's on the sweet side but not overly so.
What I liked about SPAM Tocino:
As I've said, not too salty. I've always found regular SPAM too salty for my tastes so this is better for me.
I don't need to fry it in oil, I much prefer the whole cooking in water thing.
It's priced just a few pesos higher than other SPAM variants which usually cost around P98.
I love tocino eh, hahahaha. I always order it for breakfast when faced with Filipino choices. Actually even lunch when I'm given the chance. That said, sweet-savory works for me.
Downside? It's hard to find, unlike the other SPAM variants which are practically everywhere. Also, don't expect it to taste like the pork tocino which usually comes with tocilog, it's nothing like that. It's sweet SPAM people.
Then on to the next question, where can you buy SPAM Tocino here in Manila? I've compiled SPAM Tocino sightings I've read on FB and Twitter:
Robinsons Supermarket in Eastwood City
SM Hypermarket (everyone says all SM Hypermarkets have it but I didn't see any in North EDSA, I bought mine from Jazz Mall while another friend was able to buy at Mall of Asia)
SM Supermarket in SM Aura
Wellcome (sale pa daw at P99, don't know which branches)
DEC Food Plaza in Greenhills
Have you tried SPAM Tocino? How did you find it? Have you sighted it anywhere aside from the places listed above? Do share so I can update, thanks! 😀
Like this post? Subscribe to this blog by clicking HERE.
Let's stay connected: