Sleek Makeup Matte Me in Birthday Suit is one of those makeup products everyone's always talking about. Is there a cult following? Yes, I think so. This is considered as one of the must-haves when it comes to liquid matte lipsticks. I'm not surprised. One look at the color and I knew it was my kind of shade.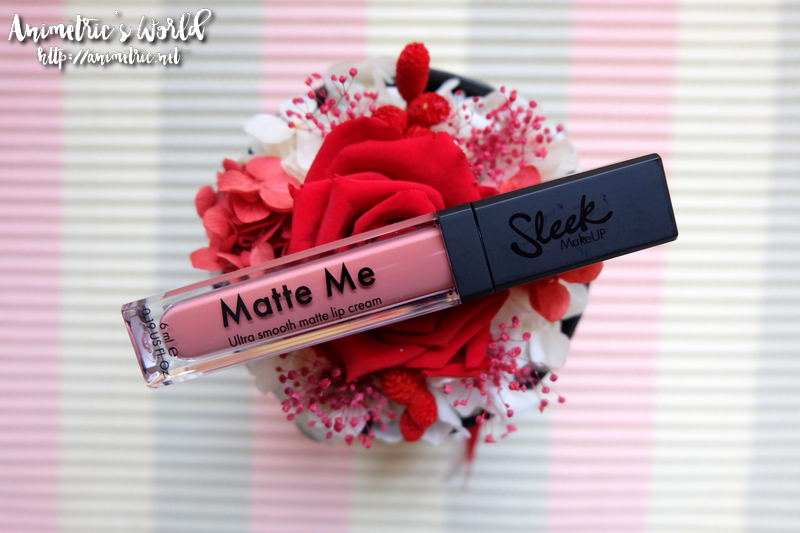 Sleek Makeup Matte Me lipsticks retail at a reasonable P450. Considering I bought a Kylie Lip Kit from a reseller for P2,300 this one's pretty cheap.
Sleek Makeup Matte Me is furnished with the usual sponge tip applicator.
Here's a swatch of the shade Birthday Suit. I find it very flattering for my skin tone.
Sleek Makeup Matte Me dries pretty quickly. When I first tried it, I applied it on very dry lips. I ended up with extremely wrinkled and even drier lips. I wasn't about to give up on it because I really love the color. For my next try, I applied Laneige Lip Mask the night before. I woke up with really moisturized lips and everything was better.
So here's how Sleek Makeup Matte Me in Birthday Suit looks under artificial light and natural light. I super love this shade! Probably one of the best lipstick shades ever for me.
Since I'm also test driving Oppo F3 The Selfie Expert, here are a couple of Sleek Makeup Matte Me Birthday Suit photos taken with the 16MP front cam. On the left photo, there's no filter. On the right photo, I used Oppo F3's Beauty filter. What do you think?
What I like about Sleek Makeup Matte Me in Birthday Suit:
The shade! OMG, if there was a perfect lipstick shade for me, this is it.
It's reasonably priced at P450 a pop.
There's no distracting scent or taste.
It lasts throughout the day. If you eat and drink, some color may come off but in the end your lips would still look passably tinted.
Downside? If your lips are not properly moisturized prior to application, it's extremely drying. Using a lip balm right before application doesn't work (I tried). It makes the product lose its matte effect because it won't dry completely if balm is mixed with it. For the Kylie Liquid Matte Lipstick, I can apply Laneige Lip Mask right before application and it would dry just fine. This one can't cope. You have to moisturize beforehand (hours before or the night before) and make sure your lips are completely dry by the time you swipe this on.
Sleek Makeup Matte Me liquid lipsticks are available at P450 a pop at selected SM Department Stores, Landmark, and selected Robinsons Malls. You can also purchase online at Zalora, Beauty Mnl, and Zalora.
Like this post? Subscribe to this blog by clicking HERE.
Let's stay connected: