One of the reasons why I don't like applying lotion is the sticky and/or greasy feeling it leaves behind. It's such a hassle when I have to do stuff like drive. I go into the driver's seat and I feel like my arms are spreading lotion all over the car upholstery. There's very little time to get ready every morning so I don't have time to wait for my entire body to dry completely.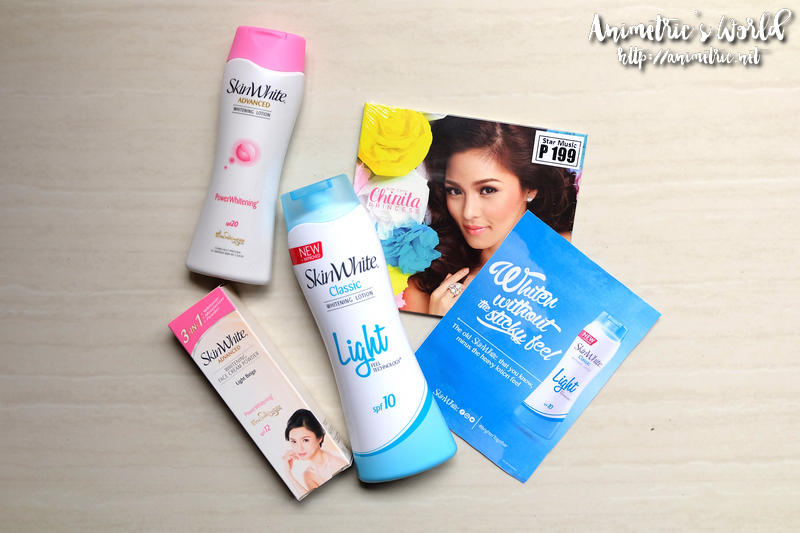 I got these SkinWhite samples from Sample Room a while back. Boy did they run out FAST. Anything related to whitening gets grabbed the moment they go up for sampling. That's just how it is. I It's not wrong to want to be fairer-skinned. It's your body, your call. If you want lighter skin, it's nobody's business. It's just like people who go out to get a tan. In short, walang basagan ng trip.
I tried SkinWhite Advanced Whitening Lotion for the first time a couple of years back. There's a new variant out now. Meet SkinWhite Classic Whitening Lotion with Light Feel Technology (P138.60 for 200ml).
So what's the difference between SkinWhite Classic with Light Feel Technology and SkinWhite Advanced Whitening Lotions? Well, it's mainly the texture. As you can see from the swatches above, SkinWhite Light is more watery whereas SkinWhite Advanced is thicker and pastier.
When spread out, you can see that SkinWhite Advanced is more opaque.
Anyway, I tried using SkinWhite Light as my daily lotion and sunscreen during days when I'm just cooped up in the office.
What I like about SkinWhite Light:
It's non-sticky, non-greasy, and lightweight.
It's absorbed quickly by the skin. No need to wait for it to dry!
The scent is lighter compared to SkinWhite Advance. This is a huge plus for someone who isn't fond of fragrances.
It has SPF 10. That's sufficient for when I'm just in an air-conditioned room for most part of the day.
It's super affordable at P138.60 for a 200ml bottle.
Downside? It doesn't quite have the immediate whitening effect of SkinWhite Advanced (which I attribute to coverage). It's pretty good as a daily lotion though since it moisturizes skin without leaving any sticky or greasy feeling.
SkinWhite Light is available at all leading supermarkets, drugstores, and department store nationwide.
Like this post? Subscribe to this blog by clicking HERE.
Let's stay connected: