I was a voracious reader as a child. We didn't have stuff like iPads or cellphones back then. We had did non-techy things like ride our bicycles, play board games, and read Archie comics. I would spend summers and holidays in my grandparents' study where there were shelves of books all waiting to be read. Classics, encyclopedias, hardbound Hardy Boys books, Childcraft… I loved reading so much I remember buying hardbound Nancy Drew books for P13.50 a piece at National Bookstore. I was buying them up until they reached P27.50 per volume. There weren't paperback versions back then.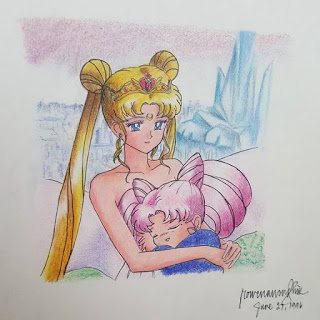 Princess Serenity and Chibi Usa from Sailormoon circa 1995
Aside from reading, I loved drawing. I remember starting to draw when I was 4 years old. I got hold of my aunt's sketchpad and I tried so desperately to copy her works. Of course I couldn't. I got very frustrated and I recall crying over it, lol. When I was in gradeschool I had a few friends who loved drawing as much as I did and we would hold drawing contests in class, asking our classmates to score our works hahaha. In my college days I discovered the wonderful world of anime (Japanese animation) and manga (Japanese comics). My drawings started veering towards big-eyed and small-mouthed characters. My favorite part was coloring.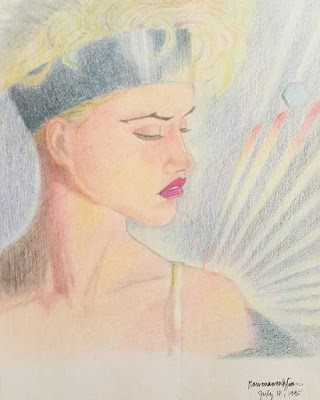 Marvel Comics' Dazzler circa 1996
I prefer using colored pencils because they're not messy. Painting is too much work for me. I don't have the patience to wash and clean palettes, brushes, and other materials.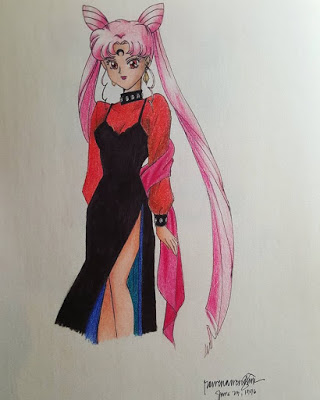 The Black Lady from Sailormoon circa 1996
I found my old sketchbook while spring cleaning over the weekend and I realized I haven't drawn in almost 20 years. It's ironic because when I was younger I would draw almost everyday. I wonder if I can still do it. Is it something you don't forget like swimming or riding a bike? I hope I can find the time to draw again soon.
And this is probably why I find adult coloring books boring. But then again I never liked coloring books even as a child, lol.

Like this post? Subscribe to this blog by clicking HERE.
Let's stay connected: