Every woman wants to look beautiful and admirable at parties. You want to stand out. Style yourself with sophistication for a classy look with elegant outfits. You can wear a chic evening dress without a special occasion — it just has to be ideal for both everyday wear and festive events. What you need to do is choose the right dress. Here is a complete, concise guide for you when choosing stylish Bellabarnett evening dresses.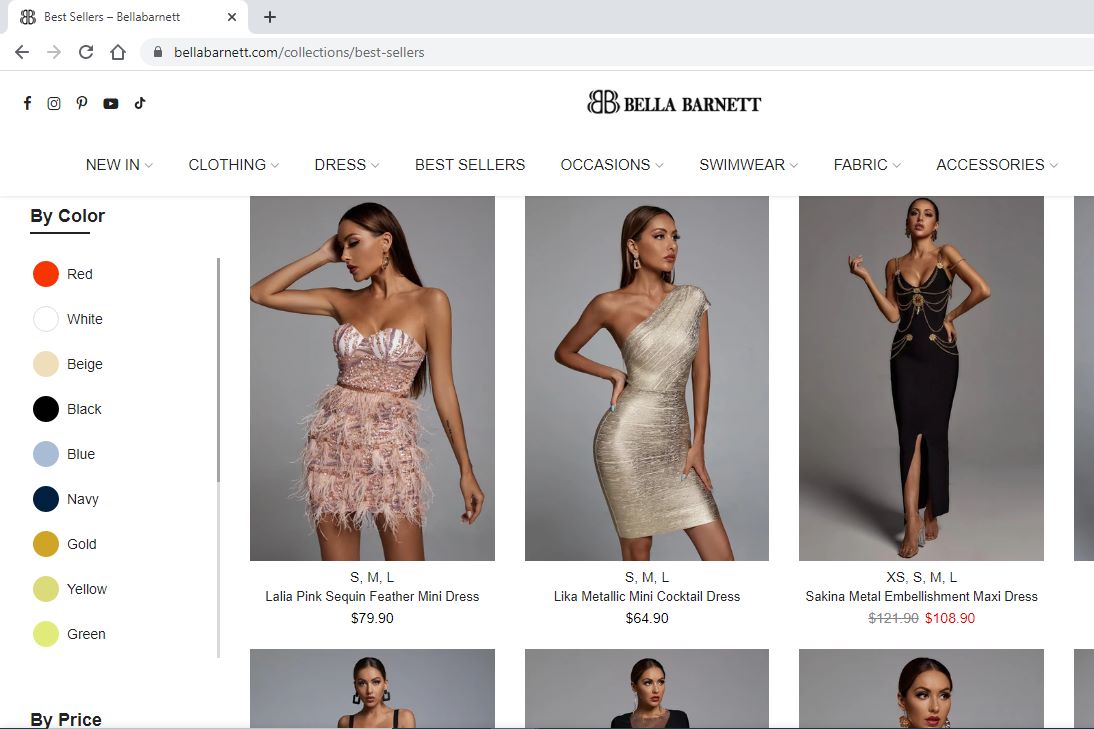 How do you know which dress will suit you? The art of fashion involves feeling great looks you love and feeling good about yourself. Almost any woman can afford a fashionable dress, regardless of age and body type. It's most important to correctly choose the right dress for your figure, while also considering the color palette and material. Of course, you should also be able to combine it the other things in your wardrobe.
Mini Dress
Long Maxi
With straps
On one shoulder
Cocktail dress
Color spectrum
Mini Dress
When thinking about a Mini dress, a dress to look adorable in comes to mind. The length of the dress is above the knee with flattering cuts that enhance your legs. Above-the-knee fitted dresses with slits on the side are a great choice, especially if you're fit.
Long Maxi
Dresses of this length are ideal for evening events. If you are not very tall, lighter colors should be considered as not to overwhelm a petite physique. Tall women can choose a combination of dark colors like blue, brown, and black.
With straps
If you are going on a date and your goal is to impress your loved one, check out dresses with thin straps. Such an outfit will make you come across as bold and confident. You'll be irresistible if you accessorize with your prettiest smile.
On one shoulder
Women with curvy figures look great in one-shoulder dresses. Such dresses flatter the curves and highlight their best features. Such a dress, of course, is not appropriate for an official event where one can't make an informal exit and go unnoticed. This type of dress emphasizes fragile shoulders, revealing the graceful collarbones — and asymmetry is the trend now!
Cocktail Dress
Sleeves and collars are often missing in a cocktail dress. The length range is from mid-thigh to midi length. This dress type is intended for occasions like corporate events, parties, family celebrations, clubbing, and fine dining. It is customary to wear a cocktail dress for official ceremonies, which are held from five to seven in the evening. This timeframe is considered "cocktail time". If you want to buy, just go with a Bella Bernett Cocktail Dress and find amazing choices in your favorite colors.
With sleeves
The most versatile choice is sleeves which can be 3/4 lengths. With full sleeves, you look more presentable and classy. Slim women will also find pluses in such dresses; full sleeves will distract attention from the angular outlines of the skinny figure.
Whatever the occasion, you can try to dress elegantly by wearing knee-length skirts and tailored button-down shirts made from quality fabrics, like silk and satin, in classic styles. If you're trying to create a sophisticated look, steer clear of loud prints and neon colors, as these tend to come across as trendy. Instead, stick with subtle prints with medium to low contrast. Black, white, navy, and gray are excellent choices.
Like this post? Subscribe to this blog by clicking HERE.
Let's stay connected: