Cleansing is the most basic thing you can do for your skin. Keeping your face clean helps keep it clear. It makes you less susceptible to breakouts and so forth. I'm really OC when it comes to cleansing. I'm one of those people who use a facial wash after makeup remover.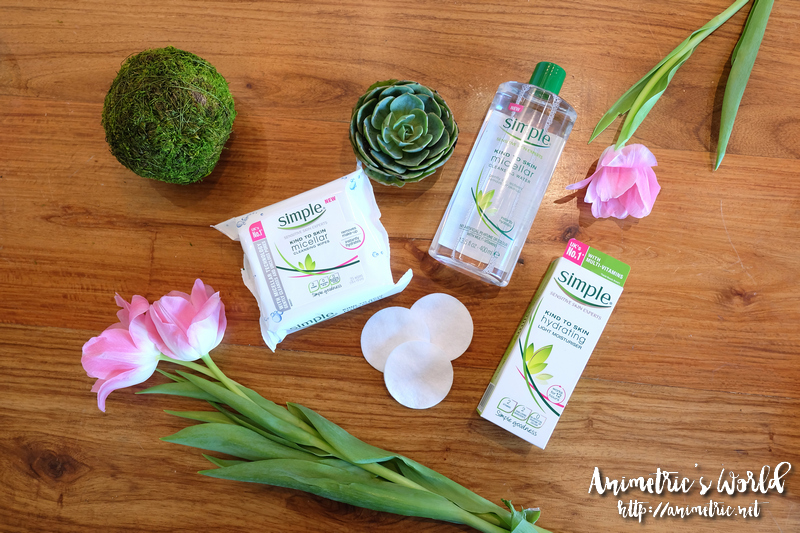 A little over a week ago I was introduced to a new skincare brand called Simple. Simple hails all the way from the UK. It's currently being introduced to Asia and the United States. Simple is known for their gentle yet effective skincare products which are suited even for sensitive skin.
Unilever's Head of Public Relations, Apples Aberin, hosted the launch event. Apples shared that Simple uses only the best skin-loving ingredients that are kind to both the skin and the planet. Its products are free from color, fragrance, and other harsh ingredients which can irritate the skin.
We had a chance to play around and try the products out during the event. I noticed that all the products really had no scent. They're all non-sticky and non-greasy too.
Are you ready to meet the Simple skincare family? We get an initial lineup of 5 products here in the Philippines. In the UK and the US, there are a lot more. Let's start with their star product, the Simple Micellar Cleansing Water (P799 for 400ml / P499 for 200ml). This works to lift away makeup and impurities while unclogging the pores and hydrating the skin.
I actually tried this product after I got back from a wedding I attended. I had layers of makeup and I used an oil-based makeup remover and another brand of micellar water for removal. Then I washed my face with a cleanser. I even used toner! Somehow my face still didn't feel clean so I got a cotton pad and splashed on some Simple Micellar Cleansing Water on it. Lo and behold I still had a lot of makeup left on my face even if it didn't look it. My face felt supple afterwards to. So yeah, this is definitely da bomb.
If you're like me, makeup remover isn't enough so you'll probably need the Simple Moisturizing Facial Wash (P299 for 150ml). It can get rid of oil, dirt, and impurities without stripping the skin of its natural moisture. It's 100% soap-free too. have yet to try this.
My experience with micellar water is it doesn't take off waterproof eye makeup as efficiently as oil-based removers. That's where the Simple Dual-Effect Eye Makeup Remover (P499 for 125ml) comes in. It's oil and water based so it effectively dissolves even the toughest waterproof eye makeup. It also nourishes and hydrates your lashes… how cool is that?
If you're on the go and need the convenience of facial wipes, there's Simple Micellar Cleansing Facial Wipes (P299). It cleans, removes makeup, and nourishes the skin. Perfect if you're on the go.
So far we have one non-cleansing product in the current lineup, Simple Light Hydrating Moisturizer (P499 for 125ml). It's formulated with a blend of muti-vitamins, glycerin, and borage seed oil to keep the skin hydrated for up to 12 hours. I'd like to try this when it's available because I prefer light moisturizers for daily daytime use.
Simple skincare products are available at the Unilever Beauty Flagship Store on Lazada.
Like this post? Subscribe to this blog by clicking HERE.
Let's stay connected: