I did a bit of shopping during the Zalora 12.12 Online Fever last month. One of the things I bought was a Sigma Spa Express Brush Cleaning Mat for my makeup brushes. It was on sale for 20% off retail, so it came out to P1,034. The exact same product is selling at Sephora Philippines for P1,508 while the US SRP is US$25 plus sales tax (comes out to around US$27+) so it was good.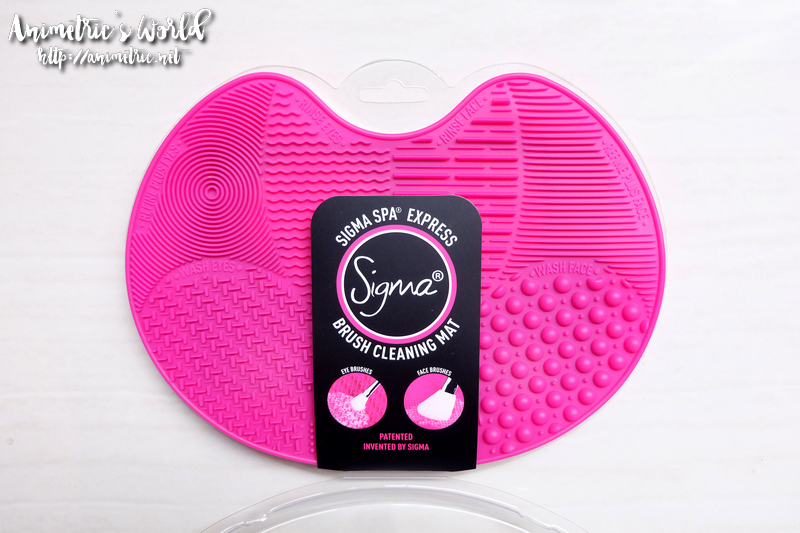 The Sigma Spa Express Brush Cleaning Mat arrived a few days after I ordered it. It looked exactly like the photo on the site.
It included a brush cleaning how-to guide.
The Sigma Spa Express Brush Cleaning Mat is divided into 7 sections, each with its own unique texture. Different strokes for different folks… or in this case, different surfaces for different brushes. The sections are labelled according to function so you can't go wrong. According to the instructions, refine just means to give the brush a deeper cleaning.
The back of the mat has suction cups so it stays in place as you cleanse your brushes.
I tried using it on our bathroom sink and it fit perfectly.
I gathered all my makeup brushes and started with my Shiseido Foundation Brush. What you do is put a bit of liquid soap (I use Sephora Purifying Brush Shampoo) and water on the mat. Wet the brush and then rub it against the appropriate surface. I rubbed it against the Wash Face section first.
Before I got this mat, I used to rub ALL my brushes on my palm to clean them. It wasn't very pleasant for me because I have over a dozen brushes.
Then I rinsed the brush on the area marked Rinse Face. I used the Refine Face section to "comb" the brush hairs so its nice and straight after shampooing and rinsing.
What I like about the Sigma Spa Express Brush Cleaning Mat:
The mat makes brush cleaning faster, easier, and much more efficient. I don't ever want to go back to rubbing all of these brushes on my palm.
It stays in place even if you rub the brushes against it vigorously.
The size is just right. There's a bigger version of this product that sells for US$32… I think this is sufficient for my needs.
The mat itself is easy to clean. Since it's elastic, I just hang it on the hand towel rack to dry.
It's easy to use and quite self-explanatory even if you don't go through the guide.
It's latex-free, lead-free, and BPA-free.
Downside? It's pretty pricey considering it's just a piece of rubber. I heard there are super cheap knock-offs at Divisoria. But hey, I'm using this to clean brushes that I use on MY FACE so I wouldn't gamble on anything from Divisoria. I remember my mother-in-law buying dirt cheap rubber slippers there. She ended up with a severe allergy which left her feet swollen for days.
You can easily buy this online for around US$25 where Sigma products are sold — Sephora (Philippines and otherwise), Sigma Beauty, and Amazon. For some reason it's no longer available at Zalora Philippines.
Like this post? Subscribe to this blog by clicking HERE.
Let's stay connected: