Back in January I took up Shu Uemura's Personal Make-Up Course using a voucher I had bought from Deal Grocer. Being a Shu Uemura addict for nearly a decade now, of course I was thrilled when I was offered the chance to participate in the Shu Uemura YUME Advanced Make-Up Class.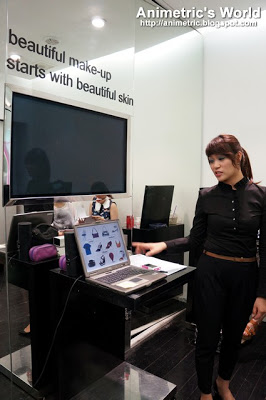 The word yume (夢) means dream in both Japanese and Chinese since it's written in kanji (Chinese characters used in the Japanese language)… but it's pronounced as meng in Mandarin. I think it's a fitting name for the course because Shu Uemura's make-up style has always struck me as imaginative, enchanting, and well… dreamy. Our teacher was Shu Uemura accredited make-up artist Sharon Soledad-Malig.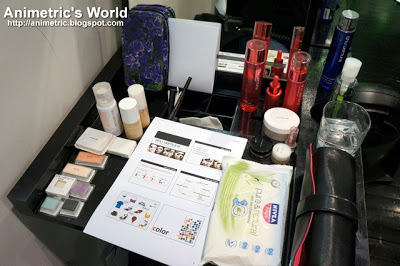 This is a photo of my workstation inside the Shu Uemura Color Atelier at the Power Plant Mall. We were all given handouts that would serve as a guide through the lessons. Skin care and make-up products were provided too, although I did end up bringing a lot of my own stuff.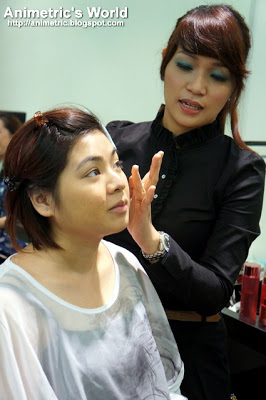 Sharon did not elaborate on skin care anymore which is the first step, since the advanced class assumes that you are already familiar with it from the basic class. We all cleansed, toned, and moisturized on our own prior to applying make-up. She started with demonstrating how you do a glowing everyday look.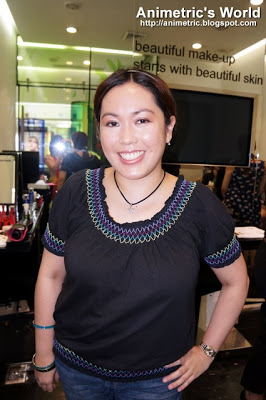 This is my version of the glowing everyday look. The shine is intentional. I used brown-toned eyeshadows from my own custom palette.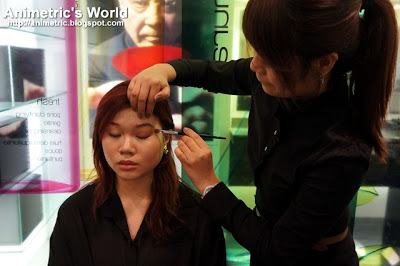 Sharon then proceeded to demonstrate how we can turn our day look into a night look. She did so on Dionne Co, the blogger behind The Prioress Makeup. Incidentally, Dionne is the younger sister of Dwight Co, one of the brilliant people behind 50 Feasts where I took up basic photography. Small world isn't it? 😀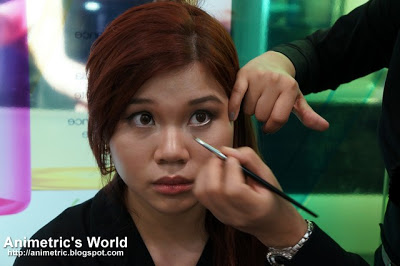 Sharon darkened the day make-up and added drama with eyeliner.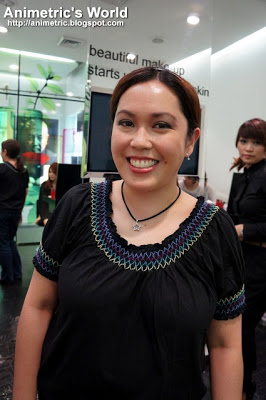 This is my night look!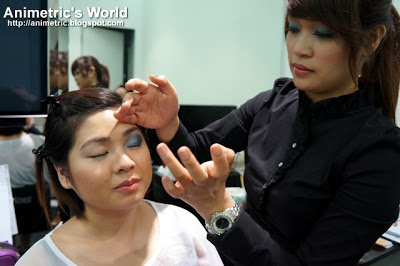 Next up was smokey eyes. Sharon demonstrated using blue-toned eyeshadows. This is also around the time my eyes turned red and so I was unable to chronicle my version of smokey eyes.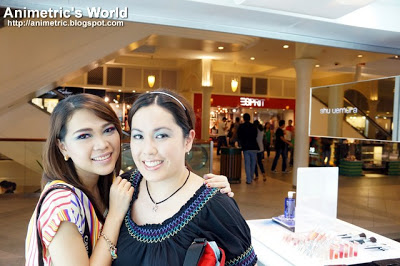 Runway look was the last we created. We could go all out with colors, lashes, and other effects we wanted. The problem was, I had a college reunion dinner to attend right after and so I played it safe and just used my Wong Kar Wai Burning in Water palette to create a bright blue eye look. Guess what… Nikki of Askmewhats was my classmate! Hehe.
All in all I had a great time learning more about Shu Uemura's make-up techniques and trying out an assortment of products which I don't have in my own make-up arsenal. You're rewarded with a certificate of completion, a Shu Uemura Fanatic Card kit, and free samples after you're done. This class costs normally costs P12,000 but it was offered on Deal Grocer for 50% off at P6,000.
For more information regarding Shu Uemura make-up classes contact:
Shu Uemura Boutique
2nd Level Power Plant Mall
Rockwell Center, Makati City
945-7322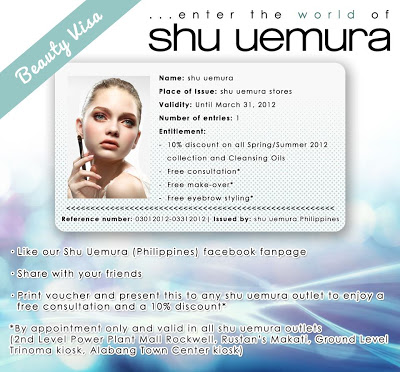 But wait, there's more! Are you a Shu fanatic like me? Get your Shu Uemura Beauty Visa! Just click on the image above and print out the voucher so you can avail of all the perks listed until the end of March 2012! Of course, don't forget to like the Shu Uemura Philippines Facebook Page.
Like this post? Subscribe to this blog by clicking HERE.Become a Facebook Fan for updates from Animetric's World.