I've always been a Shu Uemura girl. During my second Japan trip back in 2006, my first order of business was to visit the Shu Uemura flagship boutique in Omotesando.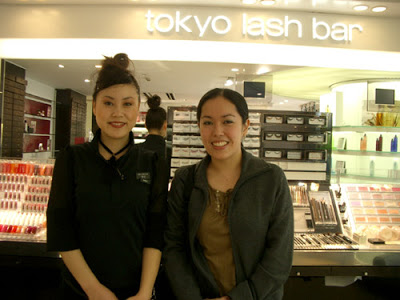 I bought eyeshadows, eyeliners, eyelash curlers (yes, with an "s"), loose powder, etc. I think I spent around 10,000 yen on my first visit to an actual Shu Uemura store in Japan. Hahaha! I love the nice Japanese girl who assisted me too (see photo above). These days I'm never without a bottle of Shu Uemura Cleansing Oil (I use the pink Fresh variant), the legendary eyelash curler, Shu Uemura Drawing Pencil, and of course the eyeshadows.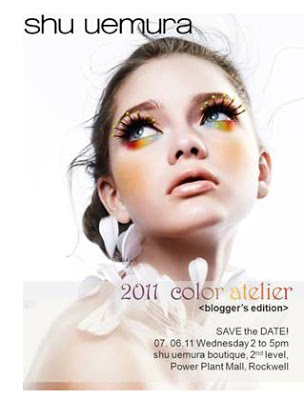 And so you can just imagine how ecstatic I was to be invited to Shu Uemura 2011 Color Atelier held last July 6, 2011 at Power Plant Mall. It was the highlight of my week. Given my crazy schedule and mommy duties, I can only choose one event on any given day. Since I obviously went for beauty, I had to forego a food event slated for that evening. I told my hubby to please cover for me in fetching the kids from school because this was one event I was not going to miss. I didn't even care if I didn't get to attend anything else for the rest of the week/month!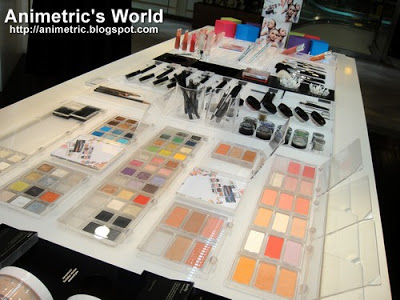 As soon as I arrived I was told that Shu Uemura is now introducing custom palettes to the Philippine market. You can pick out any color you want and then put them all together in a sleek compact case you can tote around anywhere. We were each given a Quad Case which can hold either four eyeshadows or two eyeshadows and a blush. Then came the challenging part — deciding what to put in the Quad Case!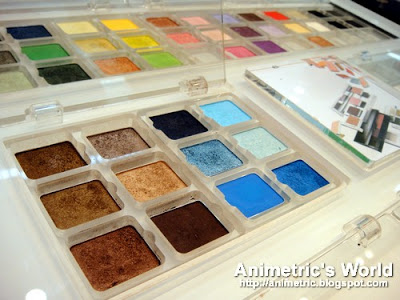 There are 65 shades of Shu Uemura Pressed Eye Shadows to choose from and 28 shades of Glow On blush. I love creating eye looks so it was really a no-brainer. I decided to fill up my Quad Case with four eyeshadows. I love blue but what I really needed were neutral colors for daytime looks since I already had lots of blues and greens. I was in a pinch. I didn't know how to narrow down 65 lovely colors to just 4. Lucky for me Shu Uemura Make-Up Artist Patrick Alcober stepped in to help me out. I told him my dilemma and he told me that you CAN mix browns and blues. Then he proceeded to demonstrate.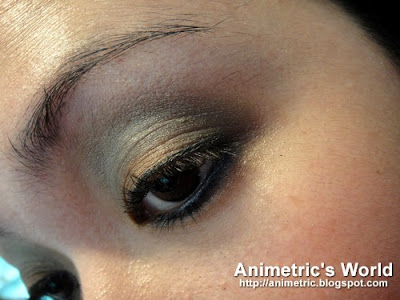 Patrick got a light golden beige shade and a brown shade then proceeded to apply them to my lids. Then he got a dark blue and a light blue shade and then mixed them together before layering them on top of the browns. Since my Obagi Blue Peel was not yet completely done (I still had a few flakes of skin on my jawbone), I didn't put on any foundation or blush, just eye make-up.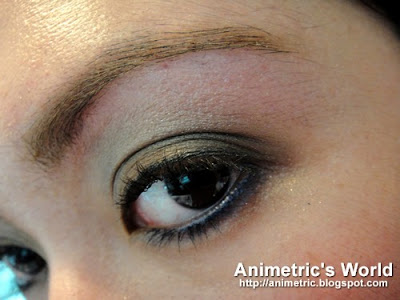 He used the dark blue shade to line my lower lashline. Metallic blue pencil lined my upper lashline. Then he curled my lashes and applied a few coats of mascara. He also introduced me to one of their newest products, an eyebrow pencil that's so natural that you can draw line after line and it'd look like hair. I can't help but notice how even-toned my skin is even without foundation. It's really because of the Obagi Blue Peel! 🙂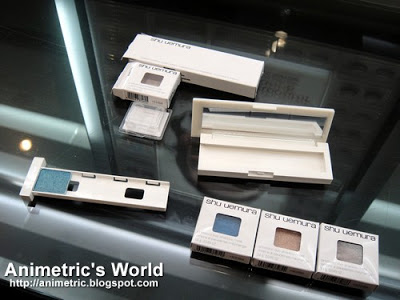 I loved the look that Patrick created for my eyes and so I told him I wanted all the shades that he used. Perfect for my Quad Case!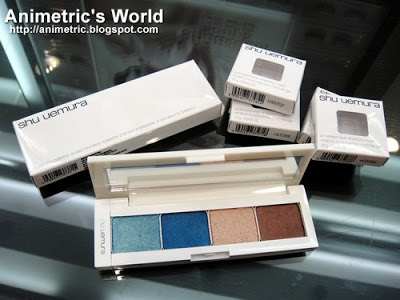 Patrick got the correct colors and helped me aseemble them all in the Quad Case. So I ended up with:
ME (Metallic) Soft Blue 655
ME (Metallic) Medium Blue 686
ME (Metallic) Light Beige 825
ME (Metallic) Medium Brown 885
Shu Uemura Pressed Eye Shadow refills cost P695 each, while a Quad Case like the one shown above costs P1,095. They come in Metallic (ME), Matte (M), Pearl (P), Iridiscent (IR), and Glitters (G) finishes. Shu Uemura Glow On blushes cost P1,095 each.
I got a Quad Case + 4 Pressed Eye Shadows = P3,875.
It may seem expensive but it's really not especially if you compare with other brands of the same level. Shu Uemura Pressed Eye Shadows have excellent pigmentation. A tiny swipe of your brush is all you need to make brilliant colors appear on your skin. These shadows are incredibly blendable too. My friend Skysenshi actually refers to Shu Uemura Pressed Eye Shadows as dummy-proof because you just can't go wrong with them. They're so vibrant and stable you can even use them as eyeliner.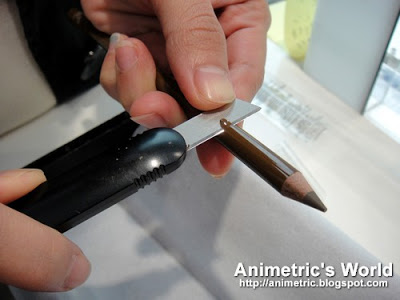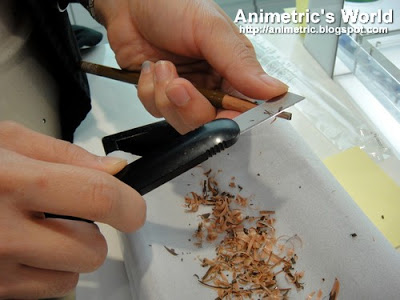 I loved the eyebrow pencil Patrick used on me so much that I decided to buy one on the spot. I got a Shu Uemura Hard Formula Eyebrow Pencil in Walnut Brown 07 (P1,400). I also had it sharpened Naginata-style because it's easier to simulate hair that way… but more on that on a separate post. 🙂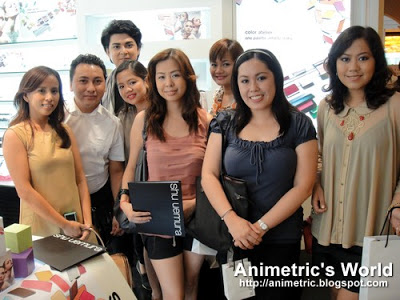 Photo opp with Shu Uemura Make-Up Artists Patrick and Roi plus fellow bloggers. 🙂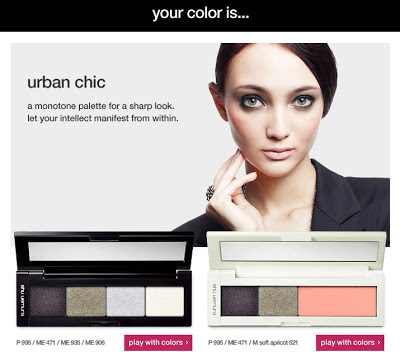 Want your own Shu Uemura custom palette but don't quite know where to start? Try the Shu Uemura Color Atelier App on Facebook. I did and I got the above result. I agree, I actually like the palette it recommended for me. Maybe on my next trip to Shu Uemura. 🙂
Oh yeah, if you buy P5,000 worth of products in a single transaction you'll be eligible for a Shu Uemura Fanatic Card which earns points with every purchase. Other neat perks include special treats and discounts on your birthday and benefits from partner establishments like Bizu, The Spa, Encore, Aranaz, and more.

Shu Uemura Boutique
2nd Level Power Plant Mall
Rockwell Center, Makati City
897-8575
Like this post? Subscribe to this blog by clicking HERE.
Like Animetric's World on Facebook for more updates.