After much test driving, I'm finally posting my review for the world's best foundation — for my face anyway. It's Shiseido Synchro Skin Lasting Liquid Foundation. I discovered it when I was given some sachets at the SM Beauty event some months ago. I tried out one for fun and it was pure magic. Honestly speaking, I'm not very fond of foundation. I've always been more of a BB Cushion person. But this product is just TOO GOOD not to have on my dresser.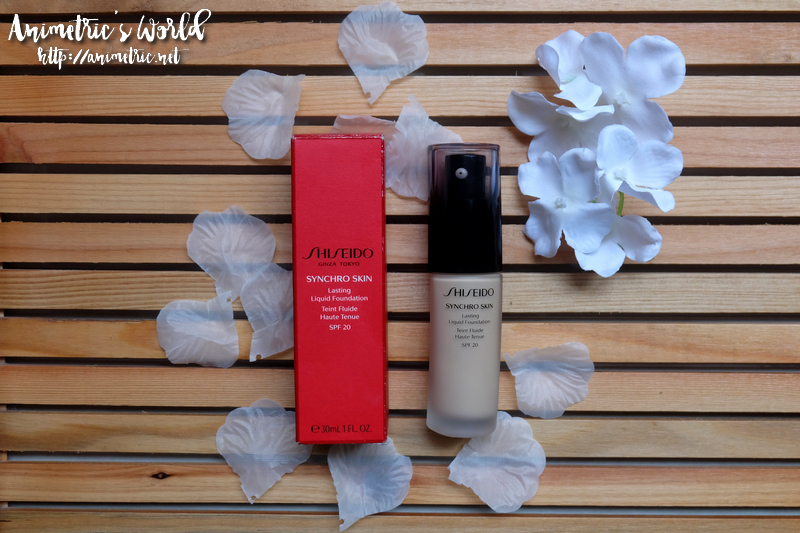 I got the shade Golden 2. I had sachets of Golden 2, Golden 3, Neutral 2, and Neutral 3. Golden 2 was the best match for me. One 30ml bottle of Shiseido Synchro Skin Lasting Liquid Foundation costs ₱2,850. Yes it's pricey but I spare no expense when it comes to my face.
So there are actually 2 kinds of Shiseido Synchro Skin Foundation — Lasting and Luminizing Glow. Since we live in a humid country, I advise getting the Lasting version.
This is a swatch of Golden 2. I love how water-like the consistency is. It's incredibly lightweight… even more so than BB Cream and CC Cream.
It spreads easily and dries to a natural matte finish which blends with your skin perfectly.
Here are photos of me before and after application.
Here's a photo under natural light.
More sample photos — one taken under artificial light and one under natural light.
This is what it looks like 8 hours after application with no retouch.
What I like about Shiseido Synchro Skin Lasting Liquid Foundation:
It's the most lightweight medium coverage foundation I've tried so far. The water-like consistency makes it easy to apply and build up.
It dries (rather quickly) to a natural matte finish without looking cakey. Definitely your skin but better.
It's oil-free and long lasting. I had it on for 8 hours with no retouch and it showed no signs of vanishing.
My skin actually feels nice and silky after application. It's like second skin so it's easy to forget you have anything on your face.
A little product goes a long way so one bottle will last a loooong time.
There are a lot of shades available with over a dozen Neutral, Golden, and Rose tones to choose from.
Downside? Well it is rather pricey at almost ₱3k per bottle but wow, it's so worth it. I get a lot of compliments whenever I use it.
The Shiseido Synchro Skin Lasting Liquid Foundation is available at Shiseido boutiques. You can also purchase at the Shiseido Flagship Store on Lazada.
Like this post? Subscribe to this blog by clicking HERE.
Let's stay connected: