Years ago, I would never have given primer a second look. I would totally skip this step and go straight to foundation. I didn't think it was important. Oh but it is. Think of primer as the foundation (am I making sense?) for your entire makeup look, meaning it's the base that will keep it all together. Primers are meant to be applied before any other makeup product and there are many different kinds. To find the right one, you have to consider your skin type and the effect you want. Do you want to make your pores disappear? Do you want to control oil? Maybe you want a glowing look? Whatever the effect you decide to go for, primer's main function is to make your makeup go on easier and last longer.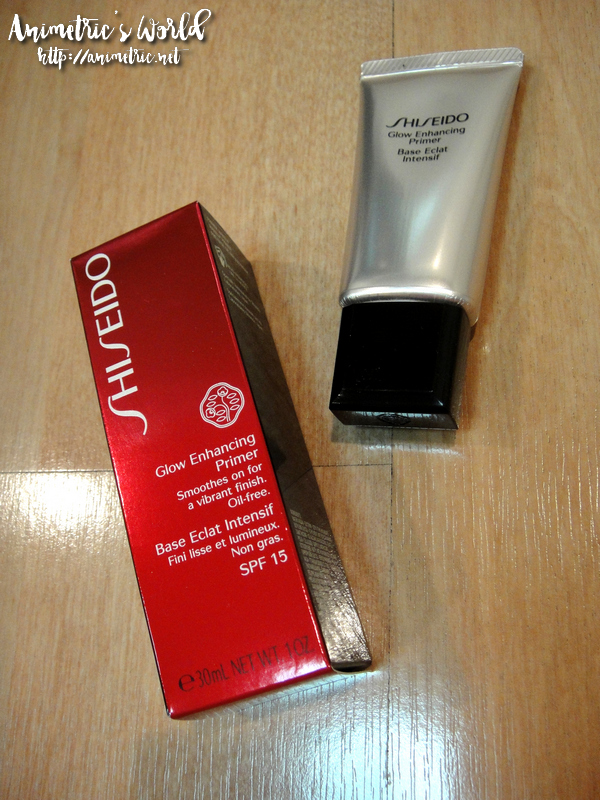 For this blog post, I will be reviewing my current favorite primer, the Shiseido Glow Enhancing Primer. As the product name suggests, it will give you glowing skin.
It actually comes in just one size — 30ml.
It's white and the consistency is what I'd describe as watery cream.
It spreads very easily and instantly gives your skin an obvious glow.
Here's the Shiseido Glow Enhancing Primer applied on my bare face (left) and then topped with foundation and complete makeup (right).
I was actually surprised when I took a photo by my window where the sunlight was. Wow! It's like I have a reflector… but I don't! I'm so impressed.
What I like about the Shiseido Glow Enhancing Primer:
It really does deliver its promise of glowing skin — instantly! I'm so amazed by this primer's effect.
It spreads nicely and it's super lightweight. There's no sticky or greasy feeling and skin still feels like skin after application.
It makes the skin surface smooth so makeup is easier to apply.
Skin looks luminous but doesn't come across as greasy.
You become more photogenic since your skin glows in photos.
Downside? It's pricey but one tube can last a long time since all you need is around a dime-sized (or 25 centavo-sized) amount for your entire face. I have no complaints with regards to the product itself, I really love it and it's way up there with my favorite things.
Shiseido Glow Enhancing Primer is available for ₱1,750 at the Shiseido Flagship Store on Lazada.
Like this post? Subscribe to this blog by clicking HERE.
Let's stay connected: