I don't like beaches. I don't like the sun beating down on me. My idea of an ideal summer vacation is strolling down the streets of Japan during the cool sakura (cherry blossom) season. Thus when I was invited by Sony Philippines to the Sony Bravia and Digital Imaging launch in Boracay, I was quite stricken.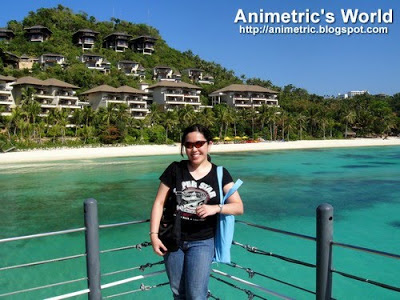 That's me up there at Shangrila Boracay's private dock. The hotel rooms are located in those buildings behind me. This is where their private speedboat drops you off with your luggage after picking you up from their hotel-esque lounge in Caticlan. But I'm getting ahead of myself…
I had a VERY BAD Boracay experience with my family back in 2008. I was with my husband and two kids aged 7 and 3.5 back then. We flew via Air Philippines to Caticlan, shuttled off to this dingy pier and rode a scary wooden boat. Then we rode a jeep and a tricycle to the entrance of Station 2 after which we had to walk all the way in to Boracay Peninsula kids and baggages in tow. We had to pay random men every step of the way to help us carry stuff.
But that wasn't even the bad part yet. The hellhole called Boracay Peninsula in Station 2 was so shitty they actually ran out of water while I was in the shower two days in a row so I had to finish up using our drinking water. The pillows felt like they were stuffed with pebbles and there was this general feeling of uncleanliness with regards to the beds. The bathroom was very child unfriendly, the sink was so high up it would take a person of my height (I'm 5'2″) to reach it. I swear I've had better stays in hospital rooms.
We were there around the third week of April 2008. The waters were algae-infested and green so you couldn't even enjoy a nice swim, much less wade by the shore. There were cigarette butts all over the fine white sands since there was a loud beach party practically every night so we also could not get a good night's sleep. At that point I was already asking myself what the hell I was doing there.
Anyways, let's fast-forward to February 2010.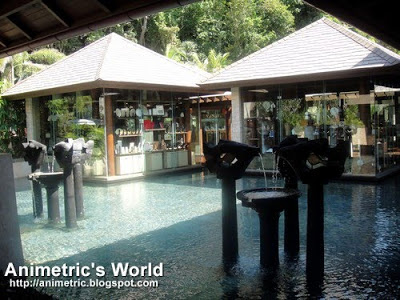 When I asked what station Shangrila Boracay was located in, I was told it wasn't on any of the stations — it had its own island. That was good news, since quite frankly I hate traversing through stations 1, 2, and 3. After we got off the speedboat, we rode a golf cart to the lobby where I was awed by the beautiful sight which greeted me. The corridors were surrounded by pristine waters. I knew right off I was going to like it at Shangrila Boracay.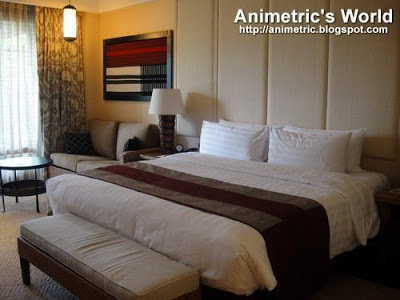 After checking in with my roommate fellow blogger Noemi, we went to our room. It was grand. The bed can easily fit three people, or maybe two adults and two kids.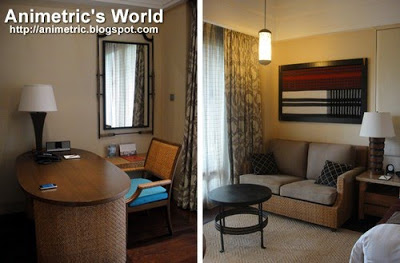 There was a study area with a LAN cable for free unlimited broadband access and a sofa that could be converted into a bed. Our room was also equipped with a rather large sized Samsung LCD TV and all the amenities you need — a hair dryer, toiletries, toothbrush sets, detergent, slippers complimentary bottled water, coffee, and tea. They even deliver a free fruit basket to your room after check-in.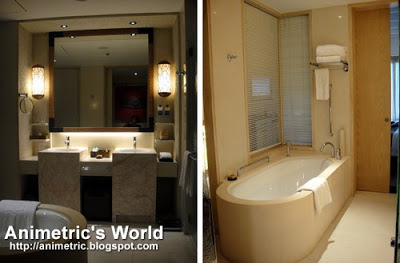 The bathroom was equally impressive. There were separate toilet, shower, and bath tub areas. There were two sinks and a complete set of towels in all sizes.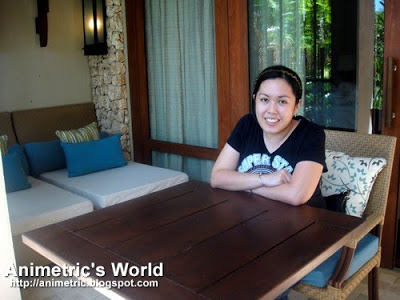 There's even a lounge area with recliners and a table right outside our bedroom.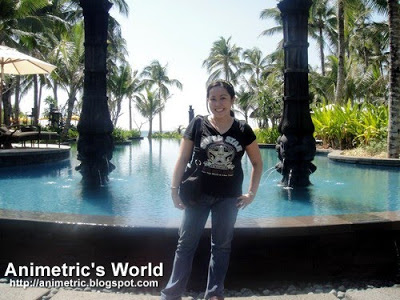 Crystal clear infinity pools were all over, inviting you to jump in for a swim.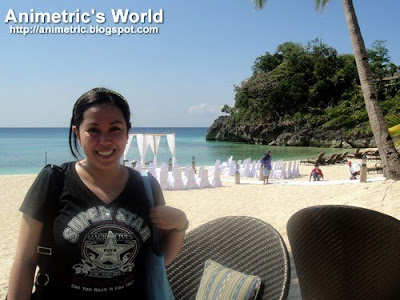 Best of all, Shangrila Boracay has its own private beach area which is very clean. You don't have to share it with all the stations. There are no telltale cigarette butts and wrappers in the sands. This is what I call relaxing by the beach.
Of course, this kind of luxury has a rather hefty price tag attached. The cheapest room costs around P17,000 to P18,000+ — but it can go down to P14,450 if you reserve 2-3 months in advance depending on the season and availability. But wow, are you ever treated like a queen. Uniformed staff would carry your things for you from the moment you step into their Caticlan lounge. You don't get your feet (or any part of you) wet when boarding on and disembarking from their speedboat. Every meal is a delicious buffet much like what Shangrila offers in Edsa and Makati.
If you actually like visiting stations 1-3, there are free shuttles that go to and from Shangrila Boracay almost every hour.
So yes, a Boracay skeptic traumatized by a bad experience like me actually had the time of her life at Shangrila Boracay Resort and Spa. It's pricey but it's a Boracay experience well worth saving up for. I hope to be able to go there with my family one of these summers. 😀
Thank you so much to Sony Philippines and VPRI for the opportunity to see the other side of Boracay. 😀
Shangri-la Boracay Resort and Spa
Barangay Yapak, Boracay Island
Malay, Aklan 5608, Philippines
(+6336)288-4988
Like this post? Subscribe to this blog by clicking
HERE
.