In Manila, my family's no. 1 midnight snack of choice is Shakey's thin crust pizza with Mojos. Right after we visited Griffith Observatory here in Los Angeles some days ago, we were famished and drove around trying to find a place to have a late lunch. Our GPS showed a lot of Shakey's branches in the area and so we decided to give the original a try. 🙂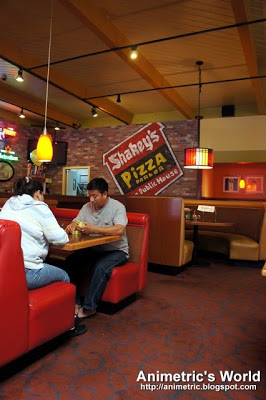 Shakey's USA's interiors has the same color scheme as the branches we have in Manila. I just found this particular outlet more spacious.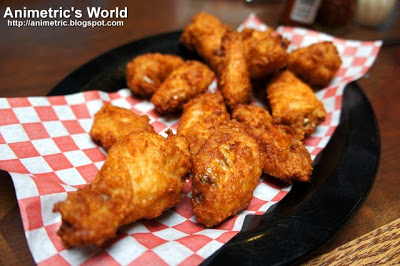 We ordered 12-pc. Wings (US$ 8.99 or around P400, pictured above) — spicy and crunchy chicken wings served hot off the fryer. Pretty good!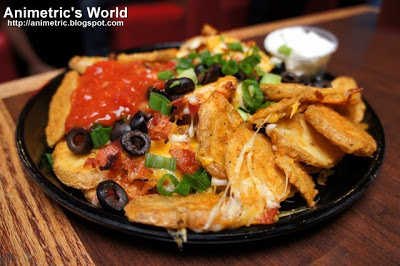 Then we had Mojos Supreme (US$ 6.99 or around P300, pictured above). Tasty mojo potatoes are topped with sour cream, olives, salsa, melted cheeses, crispy bacon, and green onions. It's sooo good. I think my son wolfed down half the plate. I wish they'd serve this in the Philippines.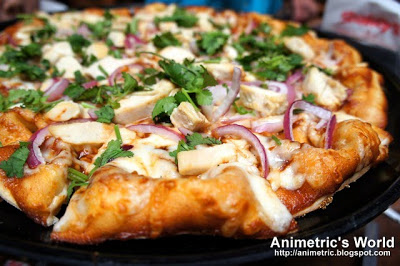 For our pizza, we settled for a large Texas BBQ Chicken thick crust pizza (US$19.99 or around P900, pictured above). One of the reasons we chose it is because this particular variant isn't available in the Philippines.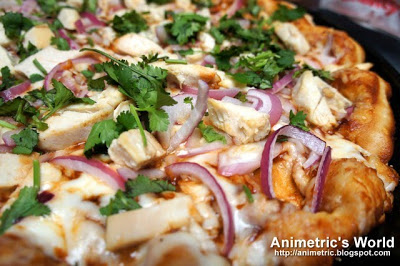 The pizza is topped with sweet and smokey barbecue sauce, chicken breast cubes, red onions, and fresh cilantro. The pizza crust is soft and chewy. We all agreed that it's really delicious. Even my 6-year old daughter who previously only ate cheese pizza was converted to a fan of this flavor. It's huge too — 12 big slices, there were six of us and we couldn't finish it. It's surprisingly non-greasy too. The underside of the pizza was matte, not a trace of oil when we held a slice! 🙂
If you ever find yourself in the US, do give Shakey's a try. You'll be pleasantly surprised. To find an outlet near you, log on to http://www.shakeys.com/.
P.S. This is my first food blog using the Sony NEX-5 camera which I'm going to review and I'm still in the process of getting used to it.
Like this post? Subscribe to this blog by clicking HERE.
Let's stay connected: