Hubby, the kids, and I went to try the newly opened Shaburi and Kintan Buffet in Glorietta last Sunday. It's a 2-in-1 dining concept wherein you can opt to have either Shaburi (hot pot) or Kintan (bbq). Upon entry, you'll be asked if you want to avail of Shaburi or Kintan. All members of the dining party must avail of the same buffet type. This is because your group will be assigned to either a Shaburi table (hot pot) or a Kintan table (bbq grill).
Shaburi and Kintan Buffet is located at Japantown, Top of the Glo in Glorietta. Half of the restaurant is furnished with hot pot tables while the other half features grilling tables. You are given 90 minutes to enjoy the buffet option you pick. Anyhow we decided to go for Kintan. It was a hot day and having piping hot soup didn't seem like such a great idea at the time. There are 4 types of Shaburi and Kintan Buffet you can avail of. We picked the Kintan Buffet (P949 per head), which is the middle option in terms of price and selection.
Regardless which buffet option (Shaburi or Kintan) you pick, you can get anything and everything from the spread. This section has the salads, cold appetizers, fresh fruits, and fresh vegetables for the hot pot.
On the other side are a mix of more appetizers and cooked dishes, such as this Beef Sushi Roll. There are also stuff like Fried Gyoza, Vegetable Tempura, Karaage, etc.
They even have Gyudon, a variety of rice (steamed, fried, and Kintan Rice — all use Japanese rice), noodles, chawan mushi…
The meats for grilling will be served at your table but there are additional options like squid rings, shrimps, fish, mushrooms, and corn at the buffet area. There are desserts like Bread Pudding, Coffee Jelly, Pannacotta, etc.
You can mix your own dipping sauce or ask the servers to do it for you.
There's a Drink Bar where you can get unlimited sodas, juices, teas, plus cold Milo and UCC coffee! Soft-serve ice cream machines can also be found in this area. I actually made my own affogato for dessert by dispensing soft-serve vanilla ice cream into my cup of hot brewed UCC coffee.
Anyhow, since we picked Kintan. We had over a dozen meats to choose from. I think we ordered everything except tongue and chicken.
These are the meats you can choose from if you go for the Kintan Buffet:
Chicken Steak (Teriyaki, Garlic Shio, Spicy Miso)
Chicken Steak (Cheese Curry)
Pork Shoulder
Pork Belly
Pork Sausage / Pork Cheese Sausage
Tasty Karubi (Teriyaki)
Tasty Karubi (Garlic Butter, Double Pepper)
Rosu (Teriyaki, Spicy Miso)
Dice Tender (Teriyaki, Spicy Miso)
Kintan Karubi
Gyu Tongue (Double Pepper)
Gyu Tongue (Negi Minchi)
Our favorites are the Dice Tender, Rosu, and Pork Belly.
The meats are all of excellent quality.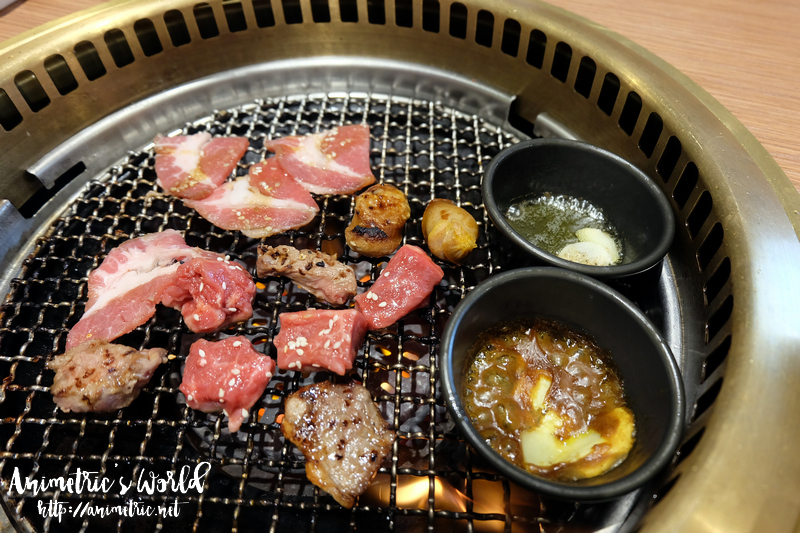 We grilled our meats alongside sizzling Curry Cheese and Garlic Butter sauces. Their grill has some sort of vacuum on the sides which suck up all the smoke so you don't end up smelling like food afterwards.
We had a really delicious and satisfying lunch at Shaburi and Kintan Buffet. There's a lovely selection of good quality appetizers, cooked dishes, meats, drinks, and desserts. Is 90 minutes enough for you to get your fill? Yes, definitely. In fact, I think we reached our limit about an hour into it. Service is quick and efficient. I love how helpful the servers are. They give great grilling tips so that your meats turn out perfect each time. They're also very vigilant with regards to changing your grill when it blackens. Will we go back? Yes, we want to try the Shaburi Buffet next!
Shaburi and Kintan Buffet Rates start at P599 for Regular Shabu and P699 for Regular Buffet. Rates go up when you pick more premium meat sets. As I mentioned earlier, we opted for the Kintan Buffet which is P949 per person. The most expensive would be the Special Wagyu Buffet which is P1,999 per person. For more information, visit their Facebook Page.
Like this post? Subscribe to this blog by clicking HERE.
Let's stay connected: