Today I lost an inch off my waistline after having my stomach set on fire. That's what happens when you dare undergo BlueWater Day Spa's Tibetan Meridian Fire Therapy.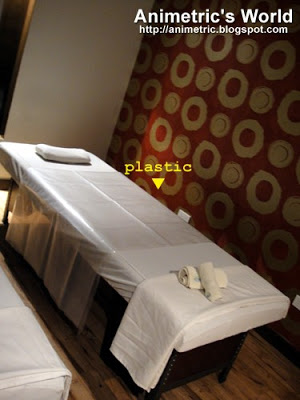 After the usual process of getting changed in the locker room, I was ushered in a room with a spa bed that had a clear sheet of plastic on top. I was to lie on my back on top of the plastic while the therapists applied slimming solutions to my abdominal area.
The Tibetan Meridian Fire Therapy makes use of a deep tissue massage similar to the Filipino
hilot
. I was in pain with a capital
P
as soon as they set their hands on me. I thought I was going to cry. I was sweating profusely while they kneaded, squeezed, and massaged my abdominal area with all the force and pressure they could muster. Blame it on my being a non-massage person. I had more air or
"lamig"
in my system than normal so it was also more painful than normal. Anyways, I was forewarned that it was going to hurt. Ah, what I go through for my feature articles. :p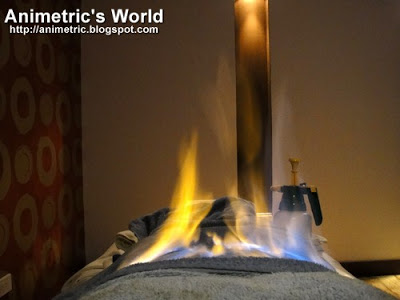 Okay, I thought the "Fire" in the treatment's name was just for the sake of art. Chika. You know. But it was not. They really did set my tummy on fire. You tell them to put it out when you can't take the heat anymore. Then they continue to squeeze, knead, and push the fatty abdominal area into submission. They repeat this whole process 5 times. You can actually roast marshmallows, it's like having your own personal campfire.
You can have the Tibetan Meridian Fire Therapy done on your tummy, legs, arms, and back. It costs anywhere from P3,000 to P3,500 depending on the body part. You can't drink anything cold or eat anything heavy after the treatment.
What do you know… I lost an inch off my waistline after the 45-minute session!
This is just a preview of what's coming up in Health Today Magazine's anniversary issue this June 2010. Watch out as we unveil our picks for the top 15 local spas and wellness destinations + the unique services they offer!
Blue Water Day Spa
2/F BPI Greentop Condominium,
Ortigas Ave., San Juan City, Metro Manila
724-0426 / 727-8420
Like this post? Subscribe to this blog by clicking
HERE
.