One Sunday afternoon hubby and I decided to try out Seoul Train Korean Barbecue in Quezon City. It's located near ABS-CBN. It actually looks like a train from the outside.
Whoa, they're serious about the train theme. It was like we were in a train station when we entered.
Even the tables and chairs are designed to simulate a train's interiors.
Each table has a set of utensils, glasses, and plates. Diners will also be provided with a water jug.
There's a barbecue grill on each table but they will give you the option to grill your own meats or have them grill it for you in the kitchen. We didn't want to smell like barbecue so we opted for the latter.
While waiting for our orders, we were served this wooden dish with paper towel capsules.
Pop a capsule into the water and it decompresses to a full-sized wet towel.
Nice, lol!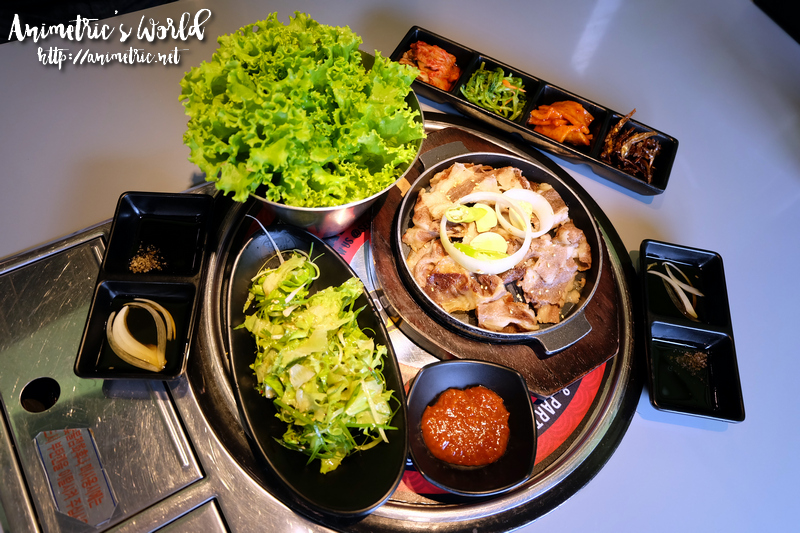 The meats on the grill menu are shockingly expensive. You are required to order at least 2 grill items. The grilled meats automatically come with refillable green salad, lettuce leaves for wrapping, side dishes (banchan), kimchi, and sauces. We ordered Woo Samgyeop (P400 for 120g) which is thinly sliced beef. It's their cheapest beef for grilling.
Here's our kimchi and banchan.
Here's a closer look at our grilled Woo Samgyeop. It was okay. The quality of the meat is decent.
We also ordered Samgyeopsal Jr. (P330 for 120g) which is thinly sliced pork belly. This is the cheapest pork for grilling.
For our dose of carbs, we shared an order of Dolsot Bibimbap (P350). It's assorted meat, veggies, and an egg on top of rice.
We mixed it up before eating. It's pretty good.
By the time our Kimbap (P210) arrived, we were already too full so we just took it home. We had it for merienda. It was okay. Bulgogi beef bits, crabstick, egg, and veggies are rolled with rice and seaweed. It's kinda like sushi except it's filled with cooked meat.
Food at Seoul Train Korean Barbecue is pretty decent. By that I mean the meat and veggies are of good quality. Taste-wise, it's also good. It's super expensive though. Higher grade meat prices range from P1,000+ to P6,000+ for 200+ grams. I find a lot more value for money at Sariwon. However, I did find the train-theme amusing. The place is immaculately clean and ventilation is excellent. No greasy floors and smoke didn't sting our eyes even as the people around us started grilling. If you want to dine here, reservations are recommended because there are only a few tables and the place gets really packed.
Seoul Train Korean Barbecue
28 Sgt. Esguerra Ave., Diliman, Quezon City
0917-7722203
Like this post? Subscribe to this blog by clicking HERE.
Let's stay connected: