When our dear friend Frannywanny was in town last month for a short vacation, we met up and had lunch at Senor Pollo Famous Latin Chicken.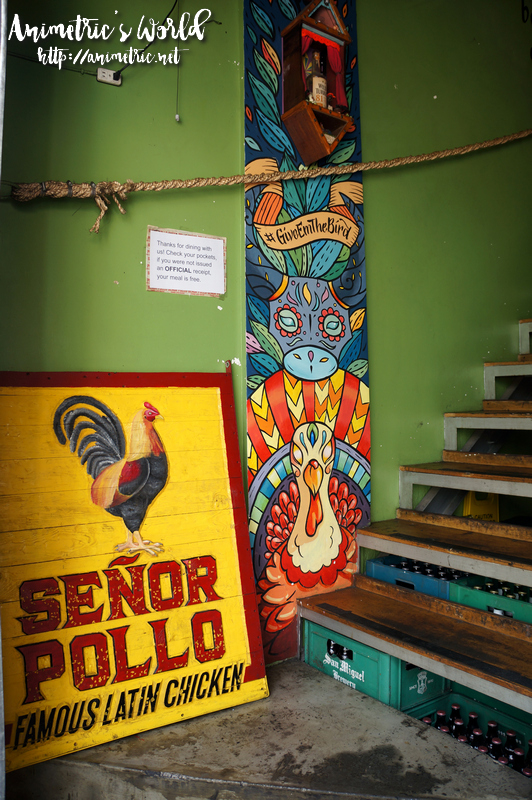 It was kind of tricky finding the place. I googled and googled and the only address that would come up was Sct. Rallos, Quezon City. Eventually we got there.
We arrived past 12:30 noon and the place was packed. You pay as you order and they won't let you order unless there are available seats for you and your companions.
This is the entire Senor Pollo Famous Latin Chicken menu.
We finally got a table upstairs past 1pm. Hubby and I were super hungry! It was hot at the ordering area downstairs but it was freezing cold at the second floor.
I ordered a Street Taco (P100) to start me off. It was disappointingly small in size and the carne asada was so tough I actually got quite pissed off while I was eating it. Alternatively you can opt for grilled chicken instead of carne asada. The extremely tough, hard-to-chew beef ruined this dish for me although it was fine flavor-wise. I'm never ordering anything with carne asada in this restaurant again.
For my main dish, I opted for Quarter Chicken with 2 Sides (P209). They granted my request for the breast part. I actually enjoyed the chicken. It was flavorful and tender, plus I got lots of meat because it was a decent-sized portion.
For my sides, I chose Latin Coleslaw and Sweet Potato Mash. The chicken is also served with a small dish of Chimichurri on the side. Chimichurri is a Latin American green sauce used with grilled meat. It's usually made of chopped parsley, minced garlic, olive oil, oregano, and vinegar. I liked it, it went well with the chicken. The side dishes were yummy too.
Hubby ordered the same thing but he requested for the thigh part.
He got White Rice and Patatas Bravas as his side dishes. Patatas Bravas are roasted baby potatoes with cheese, bacon bits, and green onions.
He also ordered All Lean Pork Sisig (P185) which was surprisingly good. I like lean pork a lot better than the usual exotic pig cheeks, ears, etc. It's topped with an egg too, you mix it all together while it's sizzling and then squeeze the calamansi all over it for best results.
We had a great time catching up with Fran, Paul, and Didi at Senor Pollo. Despite the crowded ordering area, it was pretty peaceful in the second floor dining area.
Okay, so here's my honest opinion of our Senor Pollo Famous Latin Chicken experience. For starters, parking is a freaking nightmare at this complex. There are way too many establishments sharing the same limited parking areas. The street is very narrow too so there isn't much room to maneuver. Food-wise, everything was good except for the Street Taco. Prices are reasonable in general. Overall though, I felt Senor Pollo wasn't worth the torturous wait (parking and standing for maybe 30 minutes before being allowed to order).
Senor Pollo Famous Latin Chicken
F7 Building, Sct. Rallos St.,
Quezon City
0977-1429273
Like this post? Subscribe to this blog by clicking HERE.
Let's stay connected: