It's summer vacation… and as such, my kids are off school! Since they have a hefty amount of time on their hands, we decided it was a good opportunity to revisit The Mind Museum at Bonifacio Global City. They currently have an ongoing promotion, Science Summer for 6, wherein you get 1 free ticket for every purchase of 5 tickets.
It's not available for online purchases though, you would have to go to The Mind Museum to get your tickets.
Anyhow, six of us (myself, son, daughter, sister, niece, yaya) trooped to The Mind Museum last May 9, 2013. Although it's the second visit for my children and I (our first time was last December), it was the first for my sister and my niece. A familiar sight greeted us upon entry — Aedi, The Mind Museum's talking robot girl.
We were ushered to the MindMoving Studio right after Aedi's introductory spiel so we could catch the live science experiment that was being conducted by the Junior Mind Movers. They showed us how the process of condensation works using a plastic bottle and an air pump.
This fish fossil is actually one of the new exhibits added to The Mind Museum's existing roster. It's the ancestor of the arrowana — it's about 47-50 million years old and it was found in Wyoming, USA so do take time to check it out when you get a chance.
Telescopes like this one are among the new additions too.
Last time we were at The Mind Museum, we weren't able to go inside The Space Shell because of the long line. Since it was a weekday, there was no line. What's more, The Space Shell had just been renovated and furnished with special couches that let you take in the sights in perfectly reclined comfort.
We watched Cosmic Collisions in The Spaceshell as narrated by Robert Redford. It's the story of how our galaxy came to be. It's pretty amazing. We were awed by comets, meteors, and asteroids flying over our heads. We even got to experience the spectacular light show — the aurora borealis. I highly recommend prioritizing The Spaceshell when you visit! It's definitely one of the best and most interesting attractions at The Mind Museum.
The Omniglobe is one of the best interactive displays in the museum. By pressing on the touch screen, you can transform the globe into any planet, moon, or star in our solar system. This is the Earth.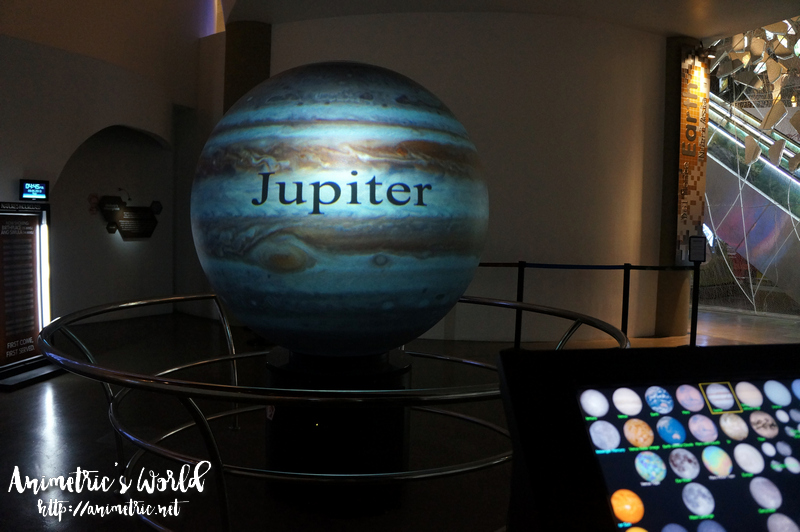 Press a button and voila, it transforms into Jupiter! You can also get visual updates on the current weather conditions around the world via live sattelite feeds. Tsunamis, active volcanoes, and earthquakes are just a few of the natural occurrences you can view.
My kids took time to check out the exhibits they missed the first time we went.
My niece had the most fun playing with the interactive displays.
Look, it's a device that measures your pulse! Just hold onto the handle bars to be able to hear your pulse out loud.
I think we missed this Carbon game area the first time around too.
This is another exhibit which caught my eye. It's a booth which demonstrates static electricity.
Holding on to the charged metal ball for a while makes your hair stand on end.
My kids were quite amused, lol!
We also went into the Shadow Box for the first time. It works kind of like a photo booth You stand in front of the wall, pose, and then the flash goes off. Your shadow is left on the wall for about 15 seconds before it gradually fades. Pretty neat!
I thought we had already seen most of what The Mind Museum has to offer but it looks like I was mistaken. We had a blast going through the new attractions and exhibits that we had overlooked on our first visit. The Mind Museum is continuously adding new things to its 250+ interactive exhibits so there will always be something new to look forward to. Now's the best time to go because of the Science Summer for 6 promo (until May 31, 2013 only).
Good news, I am giving away a pair of tickets to The Mind Museum! Please note however that these tickets cannot be used in conjunction with the ongoing Science Summer for 6 promo. Just follow the mechanics below:
This giveaway is open to all Philippine residents. I will ship the tickets to the winner. Good luck!
Congratulations Mary Ann Chavarria Hurgo for winning a pair of tickets to The Mind Museum! Please e-mail me your full name, shipping address, and contact number at animetric(at)gmail.com.
The Mind Museum
J. Y. Campos Park, 3rd Ave.,
Bonifacio Global City, Taguig City
909-6463
http://www.themindmuseum.org
E-mail your questions here
inquiry@themindmuseum.org and get a speedy reply.
Hours:
Tues to Sun 9am – 12nn | 12nn – 3pm | 3pm – 6pm
Sat 9am – 12nn | 12nn – 3pm | 3pm – 6pm | 6pm – 9pm
Mon CLOSED
Like this post? Subscribe to this blog by clicking HERE.
Let's stay connected: