Hubby has always been a car enthusiast. While he prefers to detail and work on our cars himself, he used to take them to the car wash. Now that there's a pandemic, we've been doing most things ourselves and that includes cleaning and maintaining our cars. It's his birthday today and the one of the best gifts we can give is… Sonax! Sonax is a German brand of car care products. Hubby actually buys this brand. When I was asked if we were willing to try their products, I said I had to ask hubby because he's really very picky. That's when he said that this brand is actually what he uses. I had no idea because he's in charge of cars lol.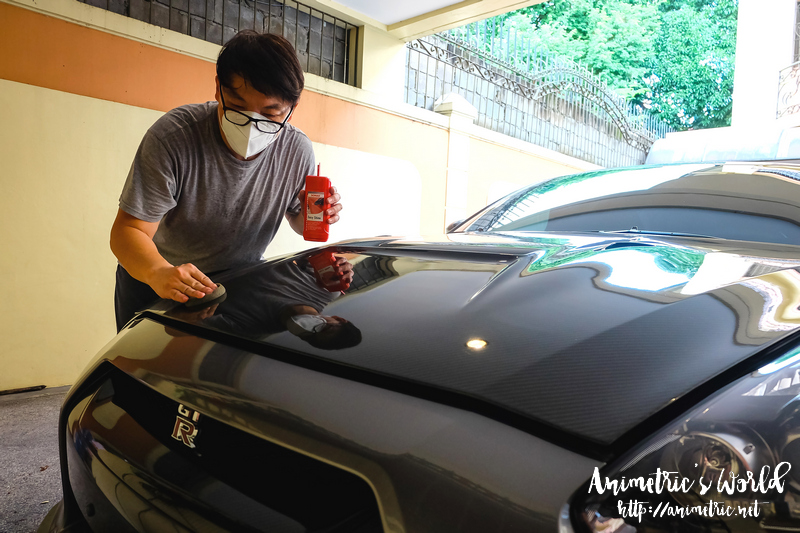 So anyway, I joined him for a car cleaning and detailing session this afternoon. We tried the Sonax Easy Shine. It's an all-in-one polish and wax which cleans and protects.
Hubby said you use this when you want a quick fix and don't have much time to spend detailing the car. It has light abrasives so it works kind of like a rubbing compound. It can remove light scratches and according to him you only need to use this just once every 3 months.
Sonax Easy Shine retails for P359.75.
We also tried the Sonax High Speed Wax (P799.75), which is according to hubby is a shortcut to waxing your car. You apply this if you want to restore your wax work's protective coat without doing the tedious job of waxing all over again.
What interested me the most was the Sonax Car A/C Cleaner (P579.75). Ever notice how the air your car aircon spews smells musty when you don't use it for a long time? The Sonax Car A/C Cleaner is an anti-bacterial car aircon cleaner which quickly and easily cleans the air conditioner unit and the vaporizer. It removes unpleasant odors too. What's more it does all of this in just 15 minutes! Just shake the can, start the car, and set the car aircon to the highest level. Activate the can's spray head and close all the doors and windows. The can will spray a fine mist for several minutes. After the can is empty, open all the doors and windows and ventilate the car. That's it! Will try to record a video to show how it works.
Sonax has an entire line of car care products that can address various concerns. They have car shampoos, waxes, glass cleaners, and so forth. These are available at Lazada and BLADE stores (online and offline). They're reasonably priced, easy to use, and deliver what they promise… so it's perfect for DIY car care.
Like this post? Subscribe to this blog by clicking HERE.
Let's stay connected: