I'm a mom but I don't really like kids. When I was single, I was the type who would avoid them like the plague. Two teenagers later, I am still not enamored with children. I find almost all child stars annoying and I don't really care which actress gave birth to what kid. BUT but but… for some reason I LIKE Scarlet Snow Belo Kho.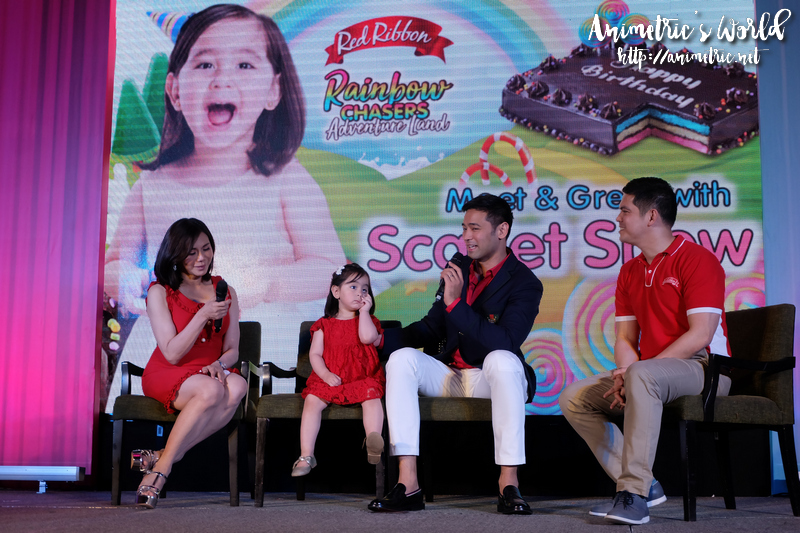 Last Friday afternoon I went to Scarlet Snow's launch as Red Ribbon's latest endorser. I follow her on Instagram — heck she is the only kid I follow lol, I would much rather look at cats. What do you know, Scarlet Snow is every bit as adorable as she is on IG.
We were given the chance to ask Dr. Vicki Belo, Dr. Hayden Kho, and Scarlet Snow some questions during the launch. Of course I wasn't about to pass up this chance.
Given that Scarlet Snow is easily one of the most popular kids on social media, I asked mommy and daddy if and how they limit her gadget use and exposure. Doc Vicki said that they allow Scarlet Snow to use the iPad only one (1) hour a day, divided into 2 sessions of 30 minutes each. Aside from studies showing that too much gadget exposure is not good for kids, they said that they notice that Scarlet Snow is more impatient and irritable when she spends too much time using the iPad. Scarlet Snow usually just watches her favorite videos during her iPad time.
Doc Hayden personally manages Scarlet Snow's Instagram account. He explained to her that IG is a place where they can post pictures and videos people can see. He also told her that when the pics and videos make people happy, they like (literally double tap) it. So for Scarlet Snow, IG is a way to spread happiness and good vibes. She has absolutely no idea just how popular she is on the platform.
On a side note, I'm so impressed by how Doc Vicki and Doc Hayden answered my questions! They're really intelligent people. I feel that it would be such an awesome experience to actually sit down and talk to them.
Scarlet Snow is actually endorsing the Red Ribbon Rainbow Dedication Cake.
It's a multi-colored chiffon cake covered with rich chocolate icing. It smells so good and it tastes just as good too. Love that it's not sugary sweet. An 8″ x 8″ cake costs P380 — this is the smallest size.
We all got to take home a Rainbow Dedication Cake yesterday. This is already available at all Red Ribbon stores nationwide. You can have your very own personalized dedication for gift-giving.
Like this post? Subscribe to this blog by clicking HERE.
Let's stay connected: