One year ago, I blogged about Sappe Beauti Drinks from Thailand. I got a case of drinks for review. They were refreshing fruit-flavored drinks which had beauty benefits. At the time there were two variants: L-Carnitine (for better digestion and fat burning) and Collagen (for beautiful smooth skin). Now there's Sappe Beauti Drink L-Glutathione.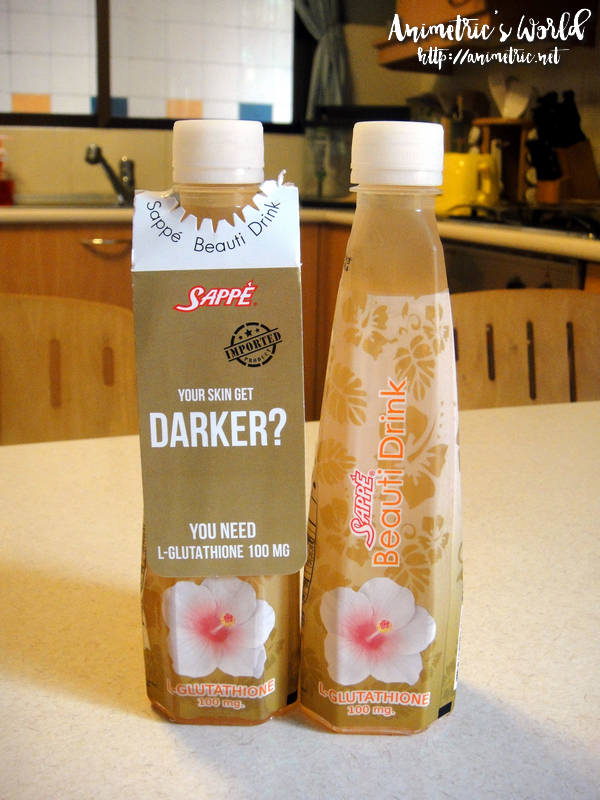 Yes, Sappe Beauti Drink L-Glutathione for skin whitening. I got these bottles from Sample Room.
Sappe Beauti Drink L-Glutathione contains 100mg of L-Glutathione in every bottle and promises to whiten skin from within. It also has French Maritime Pinebark Extract and Grape Seed Extract which helps promote skin elasticity, making you look younger.
Sappe Beauti Drink L-Glutathione contains 90 calories per bottle. Like the Sappe Beauti Drink Collagen variant, this one is apple-flavored. Please note that according to the label this beverage (as well as all the other Sappe Beauti Drink variants) is not suitable for children, pregnant women, and lactating mothers.
The drink is gold-colored like most brands of apple juice. I refrigerated it because I like my drinks cold. I tried it and well, I thought it tasted more like lychee instead of apple. I like the Collagen variant better because it has a lighter taste. This one has a stronger flavor. I don't really like lychees, I mean it ranks way down there with the fruits I like the least so I don't think I will be purchasing this.
Does it whiten the skin? I honestly don't know. I only had a few gulps and I don't like the taste enough to have any more. Besides, my skin tone is already on the fair side so it's really hard to tell if whitening products work on me. Still, if you believe in ingesting glutathione for best results, this is cheaper and less scary compared to glutathione pills and injections.
Sappe Beauti Drink L-Glutathione is available for P35 per bottle at selected 7-11 stores.
Like this post? Subscribe to this blog by clicking HERE.
Let's stay connected: