Are you familiar with Sanosan? I'm not. In fact, this is the first I've heard of the brand. But guess what, Sanosan is a brand of baby and child care products that has been around for 30 years! Sanosan uses only the best natural ingredients for the gentle care our little ones need.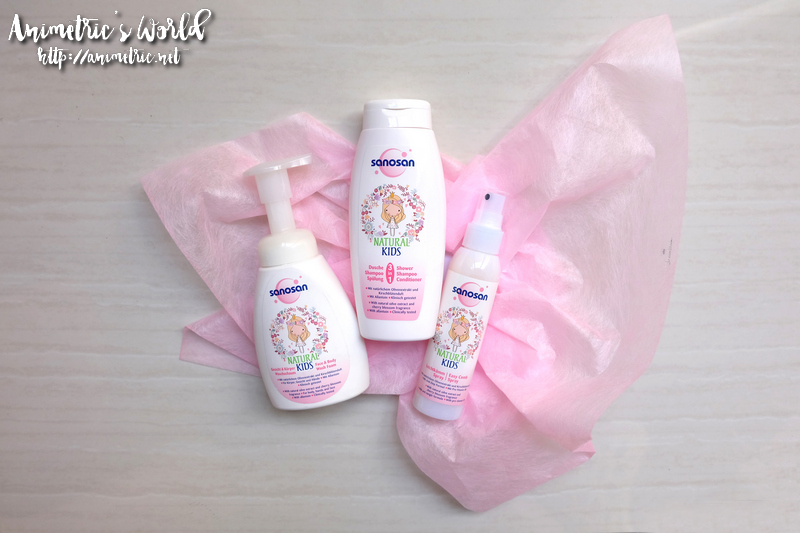 I got a few Sanosan products to try out some time ago. I'm always excited when I'm discovering something new.
Check out the Sanosan Natural Kids Face and Body Wash Foam (P379.75). There's a girls version and a boys version. It's a mild and gentle cleanser which can be used for both the face and body.
Simply push the pump dispenser to get foam. My daughter uses this to wash her face. Its moisturizing formula contains olive oil extracts and allantoin which prevents dryness. I don't want her to use soap or regular facial wash on her face because they tend to dry out her skin. She told me her face feels nice and soft after washing with this.
This is the Sanosan Natural Kids 3-in-1 Shampoo and Conditioner (P279.75). It can be used all over from head to toe. Like the Foam, this has allantoin and olive oil extract. My daughter fancies the cherry blossom scent which is characteristic of all the Girls version products of the this line.
Finally we have the Sanosan Natural Kids Easy Comb Spray (P299.75). There's no boys version for this product. It's a detangling spray you spritz on hair you can't comb through.
My daughter's hair isn't prone to tangling but mine is! All the coloring and chemical processes I subject my hair to has taken their toll. Every time I shampoo, my hair gets all knotted up. It happens even if I use conditioner! So I tried the spray. Amazingly, all it took was a couple of spritzes for me to be able to comb through my hair. It's so amazing!
Sanosan products are available at Baby Company, selected Mercury Drugstores, and leading department stores nationwide.
For more information, log on to http://www.sanosan.ph/.
Like this post? Subscribe to this blog by clicking HERE.
Let's stay connected: