I've been searching for a review of Sandaya Japanese Yakiniku Restaurant in Fisher Mall but I've never really found a proper one. By proper I mean one that tells me what I'm going to get if I avail of the eat-all-you-can deal, if food is good or bad, and how much it's going to cost. When our Canada-based friends came to Manila for a vacation a few weeks ago, they said they wanted to have yakiniku. So I suggested Sandaya Japanese Yakiniku Restaurant — most of us were coming from Quezon City so it made sense.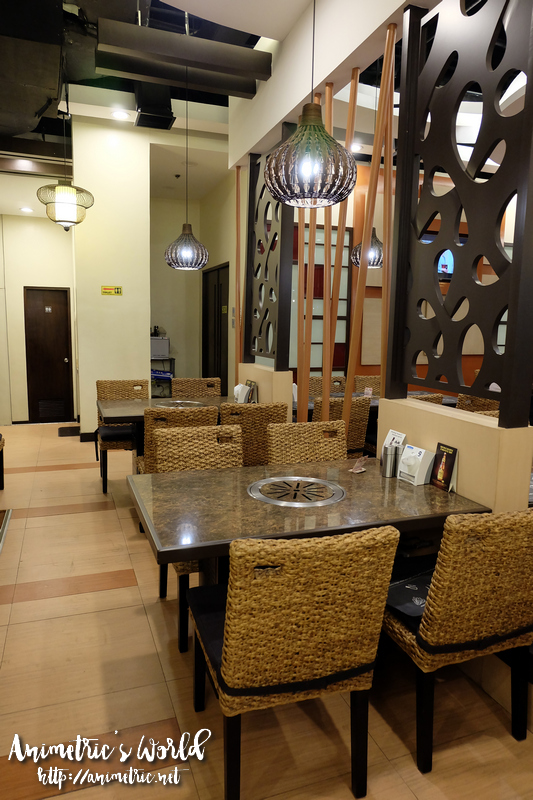 The interiors are actually quite nice, what's not nice is the air-conditioning which seemed non-existent… and we weren't even cooking yet!
We availed of Sandaya Japanese Yakiniku Restaurant's eat-all-you-can dinner deal for P595 per person. For that price, you get unlimited platters of US Beef Short Plate, Brazilian Boneless Pork Belly, and US Boneless Chicken Leg Quarter. You can't have one type of meat, you have to have beef, pork, and chicken every round. Not good for me because I hate chicken.
You also get unlimited Sprout Salad which isn't really salad, it's more of plain bean sprouts. But I thought it went well with the meats so I didn't mind.
Unlimited miso soup and steamed rice too.
Bottomless iced tea is also included in the eat-all-you-can deal.
The quality of the meats is okay in general but I found this particular eat-all-you-can deal very very boring. It's basically just meat, bean sprouts, rice, and soup. Then there's the horrid air-conditioning of the place to which the staff said it's because air-conditioning is centralized. I think if you're going to operate a grill place where your customers have to cook on the tabletop you have to at least make sure they're comfortable while they're doing it. I mean who in their right mind would want to sweat it out inside a restaurant while having dinner?
Anyways despite the heat we did have a nice time catching up with our high school friends.
Would I recommend Sandaya Japanese Yakiniku Restaurant? If you're okay with cooking inside a hot and stuffy restaurant and you don't mind the limited selection then by all means… as for me I don't think I'll be going back anytime soon.
Sandaya Japanese Yakiniku Restaurant
3/F Fisher Mall,
Quezon Avenue, Quezon City
287-8984
Like this post? Subscribe to this blog by clicking HERE.
Let's stay connected: