I was invited to an out-of-town food trip by The Aristocrat Restaurant a little over a week ago. I had no idea what the itinerary was, all I was certain of was we were having lunch at a newly opened The Aristocrat Restaurant in San Pablo, Laguna.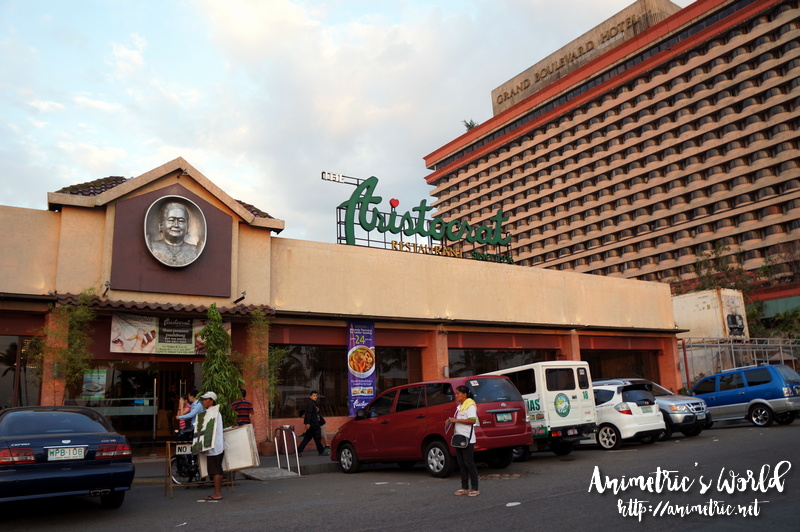 We converged at The Aristocrat Restaurant Roxas Boulevard. It's a classic. Back in the 80's, mom would always ALWAYS buy a whole Chicken Honey for my sister and I along with some cups of Chocolate Mousse. We would have them as midnight snacks. These two food items make up a major part of my childhood. Mom and dad separated when I was about 8 years old. We stayed at my maternal grandparents' house and well, Chicken Honey and Chocolate Mousse became our comfort food. I'm not exactly sure why but mom would always buy those two things to cheer us all up. Although mom is now based in the US, it's a must for her to dine at The Aristocrat every time she comes to Manila for a vacation. It's her all-time-favorite restaurant. Seeing that green logo always makes me feel nostalgic.
I got to The Aristocrat at 8am, our appointed time. I was offered breakfast and I decided to order the Tocino Plate (P255), which is part of the All-Filipino Breakfast Menu. It comes with your choice of drink — hot chocolate, coffee, hot tea, native chocolate, milk, or pineapple juice. I opted for native chocolate and wow, OMG, it's probably the BEST hot chocolate I've ever had. It was thick, rich, but not overly sweet… just the way I like it. It was half gone when my food arrived. You MUST try The Aristocrat's native chocolate.
I was very happy with the tocino. It wasn't anything like the bright almost fluorescent pink (food coloring galore!) pieces of meat we'd usually see. It came in normal-looking slightly glazed slices with two sunny side up eggs, sliced tomatoes, and a bowl heaping with piping hot garlic rice. Delicious! After such a filling and satisfying breakfast I was all set for the day's activities! 😀
It was a privelege to be with the "Adobo Queen" herself Ms. Nancy Reyes-Lumen, who is also a renowned food writer, critic, and TV host not to mention a part of the Reyes family which has owned and run The Aristocrat Restaurant since 1936. I was with veteran bloggers Melo, Arpee, Annalyn, Junes, Azrael, and Dante too, most of whom I haven't seen in ages! We were also made to feel at home by Ms. Mary Jo, who is also part of the Reyes family. She handles marketing for The Aristocrat.
We rode a van to San Pablo, Laguna. Our first stop was the San Pablo Cathedral. It was picturesque and it had a rustic old world kind of charm which reminded me of Rizal's novels Noli Me Tangere and El Filibusterismo. Lucky for us it wasn't too hot that day.
I took a lot of photos of San Pablo Cathedral. It has that kind of vibe, it makes you want to snap away with whatever camera you have on hand.
There were vendors selling pajo mangoes outside the church. Pajo mangoes are small green mangoes which are sour/tart. They're good with bagoong (Filipino shrimp paste) or sliced and diced into ensalada (salad) mixed with other ingredients like tomatoes, onions, and salted eggs. They were cheap, P12 per bundle if I remember correctly.
It was a quick stop and I regret not going inside the San Pablo Cathedral to take more photos. We proceeded to Ultimart Mall afterwards, a shopping plaza San Pablo residents would frequent. You'd be surprised at what we found there (Mango outlet? Hmmm…), but I'll tell you more about it in the next post! 🙂
The Aristocrat
432 San Andres St. (cor. Roxas Boulevard),
Malate, Manila
524-7671 to 80
Like this post? Subscribe to this blog by clicking HERE.
Let's stay connected: