We visited Salvatore Cuomo and Bar in Uptown Parade BGC sometime last month when our dear friend Frannywanny arrived from Singapore for a short vacation. We decided to go on a week night.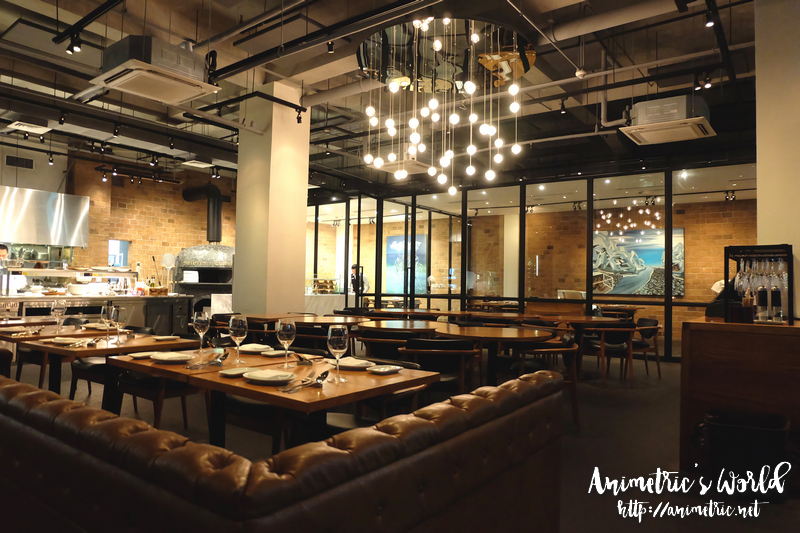 The place is undoubtedly posh. It's the type of fine dining restaurant you bring people you want to impress to. I immediately noticed the open kitchen set up. You can see how they go about preparing food while waiting for your own order.
Upon being seated, we were served with a complimentary appetizer called Zeppole. It's fried dough that's super chewy with a hint of saltiness. It's served with a bit of olive oil for dipping on the side. It was a preview of what was to come. It sure whet my appetite for more!
We started off with Caprese con Mozzarella di Bufala (P750). I'll be the first to tell you that for the price it's a really tiny serving which I can easily finish by myself. What makes this dish so special is the incredibly juicy and sweet cherry tomatoes imported from Japan. That and the extraordinarily milky mozzarella cheese. Yum!
We also had Tagliere di Affettati (P960). It's a typical cold cuts board with parma ham, salami, and mortadella ham. It's served with sundried tomatoes and olives on the side. It was okay, but I'd rather order something else with P1k.
The revelation of the night for me was the Quattro Formaggi Pizza (P770). You'd think it's just cheese and dough. But wow, drizzle the honey over it and take a bite. The combination of savory and sweet is a heavenly treat for the taste buds. This really is worth trying.
Our other pizza was D.O.C. or Denominazione di Origine Controllata (P850). It's kinds of like a Margherita Pizza except that it uses the Japanese cherry tomatoes and milky mozzarella. Chef Salvatore Cuomo adds some basil and a splash of olive oil and voila! Light and just right, but the Quattro Formaggi is more life-changing for me.
Check out the oven where they bake the pizzas!
After the pizzas, we had pastas starting with Spaghetti Carbonara (P480). It was light and savory, not at all cloying, the way authentic carbonara should be. They use pancetta instead of regular bacon. My kids would love this.
Next up was an olive oil-based pasta, Spaghetti ai Funghi e Salmone Affumicato (P490). It has salmon pieces, mushrooms, and tomatoes. Love how all the spaghettis we tried had perfectly al dente noodles.
This is Tim Yap's favorite dish, Zuppa di Pesce (P1,400). It's a vibrant tomato-based seafood soup with lots of mussels, clams, fish, prawns, and squid. I found it oddly comforting. Plus points because there's no fishy scent or taste.
Of course, we had to have meat! For that we tried Tagliata di Manzo (P1,800). This is a pretty straightforward grilled steak dish with basil sauce and parmesan cheese. The beef is of good quality and well worth the money. I dare say the steak at Salvatore Cuomo is better and a bit less expensive compared to the one I tried at Atelier Vivanda.
Then we had another pasta dish, Fettucine ai Scampi (P850). It consisted of humongous meaty prawns with tomato cream sauce fettucine. Yum!
We were stuffed at this point but we made space for desserts! Our first one was Tiramisu with Pistachio Gelato (P380). Smooth and decadent pistachio ice cream with this creamy coffee cake proved to be a winning combination.
Then there was Amaretto Panna Cotta with Fresh Mango Sauce (P320). Light, milky, and delicious, just the way I like my Panna Cotta.
Hubby and I totally loved the food at Salvatore Cuomo. The dishes are all characterized by a clean taste and the flavors come beautifully together. Yes it's pricey, but they do fine dining so well that it's worth going back to. Surely a great place for date nights and special occasions.
Salvatore Cuomo and Bar
G/F Uptown Parade 38th Street cor. 9th Ave,
Bonifacio Global City, Taguig, Metro Manila
946-3072
Like this post? Subscribe to this blog by clicking HERE.
Let's stay connected: