*Unfortunately based on my last visit to SM Mall of Asia a couple of weeks ago, Sakae Sushi is now closed.
Last Sunday was our son's 13th birthday. I had to go to SM Mall of Asia for work (yes, on a Sunday!) and so we decided to have his birthday lunch there. We get so lost when we're in MOA because we rarely go there. After wandering around aimlessly for quite a bit we came across Sakae Sushi. More importantly, we spotted a sign near their door which said All Day Sushi Buffet for P399!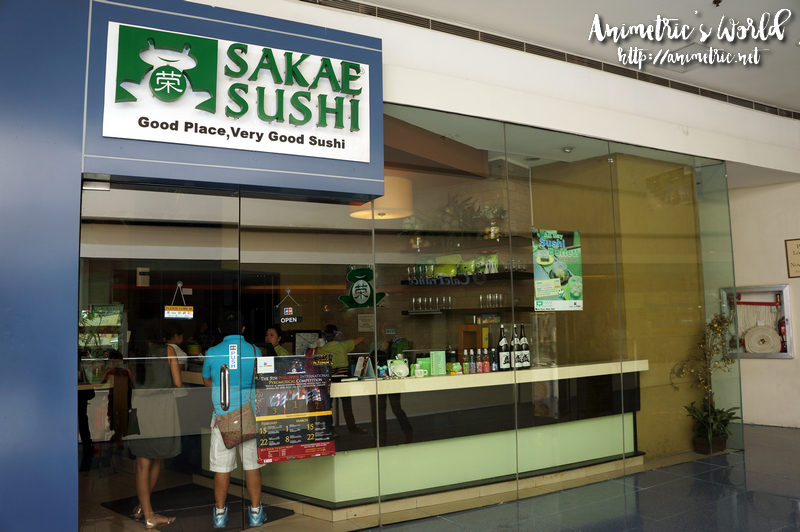 We asked the birthday boy if sushi for lunch was okay and he said yes.
We could hardly believe our eyes — All Day Sushi Buffet for P399 and P249 for kids 4 feet and below. It comes with free Miso Soup and your choice of bottomless hot or cold green tea too. We thought it was a good deal.
We went in around 11:10am and we pretty much had the entire place to ourselves. Our kids were awed by the colored plates of sushi going around on a conveyor belt.
The conveyor belt goes all the way into the kitchen and then back out for easy replenishing.
Each table is equipped with soy sauce, little dipping trays, and a water dispenser which is shut down and not usable. Hubby and I had a meal at a similar place in Japan some years back and the dispenser there was used to death.
Chopsticks and toothpicks abound too.
This is the price guide in case you aren't availing of the sushi buffet. If I were you, I would go for the eat-all-you-can deal because P399 will get you maybe 6 of the cheaper plates or 3 of the pricier ones.
We were served our green tea and Miso Soup right after we placed our orders.
Typical Japanese Miso Soup served hot.
I wasted no time grabbing plates of the conveyor belt. These two plates alone are worth over P200 already. See? I'm just getting started and I've already consumed half of the P399 buffet rate, lol! I super loved the Futo Maki (green plate) that's coated with bonito flakes and seaweed.
Their salmon sushi was wonderful! The salmon tasted fresh and nice. It's lovely when dipped into some soy sauce with wasabi. Alternatively, they have a tamago (egg), kani (crabstick), ebi (shrimp), and maguro (tuna) version of this sushi but I wanted none of them… I just stuck with salmon. Hubby had a few plates of the shrimp though.
I was intrigued by the red plates which cost P109 each so I made it a point to grab some. This one is unique — it's filled with what tasted like tuna spread, a mango chunk, crabstick, and then coated with a bright yellow something… sorry I don't know what it's called but it's good. Hubby and I were really starting to pile on the plates. Our son too, he had his own stack.
This one is like a creamy egg sushi. It had a milky taste which I liked.
I enjoyed the plum and seaweed-coated Futo Maki too.
Our daughter opted for a Kiddie Meal (P249) instead of the sushi buffet. There are three kinds of kiddie meals and she picked the one with Japanese Fried Rice, egg, yakitori chicken, and crabstick tempura. All kiddie meals come with a small glass of iced tea. Sakae Sushi has an ala carte menu with hot dishes, complete from appetizer to dessert, so it's not just a sushi place.
Our bill came out to around P1.5k, we felt we got really good value for money. At the very least the three of us consumed sushi plates worth much more than the P399 rate. By 12nn the restaurant was super full! I'm glad we got there early because by the time we left people were already lining up to be seated. I wouldn't mind going back again — hubby and I really enjoyed having a non-greasy, tasty, fresh, and filling lunch. Even the kids enjoyed the food.
Sakae Sushi
2/F SM Mall of Asia North Wing
Seaside Blvd., Pasay City
556-0150
Like this post? Subscribe to this blog by clicking HERE.
Let's stay connected: