Rupaul's Drag Race is my daughter and I's #1 all-time favorite show. We've watched all the seasons and specials, including All Stars and Untucked. We had the pleasure of meeting one of our favorite queens Aquaria thanks to SM last year. Then I got wind that the Rupaul's Drag Race Werq The World Tour was stopping by Manila. I bought a couple of Patron A tickets for us because I wanted to avail of the Meet and Greet option which was only available to Patron A ticket holders.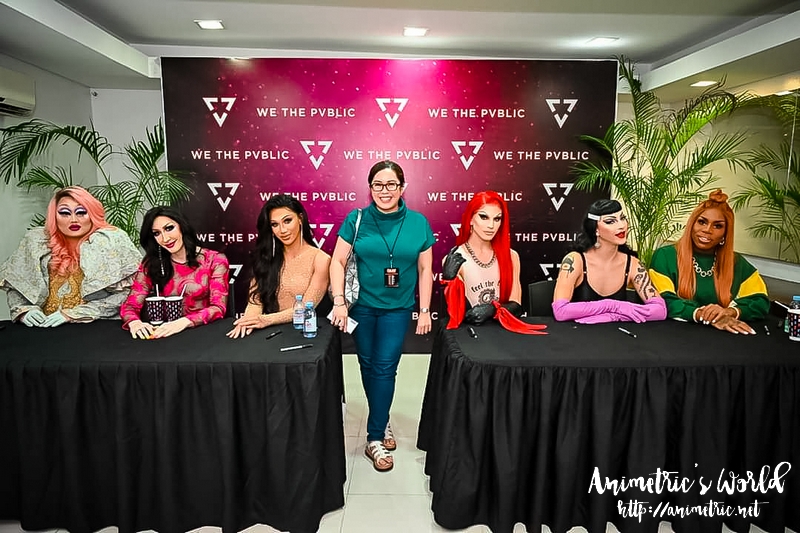 Alas, I didn't catch the announcement when the M&G passes dropped so when I was trying to buy they were already OUT OF STOCK. Lucky for me a friend had a spare M&G pass which he passed on to me… but I only found out the day before the show! Had I known earlier I would've gotten the queens personalized gifts! Unfortunately I didn't have time to.  Anyhow, I was so overwhelmed by the 6 queens in the M&G — Kimchi, Detox, Plastique Tiara, Aquaria, Violet Chachki, and Monet Xchange. They are all favorites! I was speechless because I didn't think I'd get to meet them. I just blurted out that I didn't think I would be there that day because passes had gone out of stock but a friend gave me one so I was able to go. Detox actually told me to breathe because I was so flustered lol.
We honestly had no idea what to expect from Werq The World apart from epic lipsynch performances. But boy, did we get a lot more. The show opens with performances from the O Bar Divas, our local drag queens. Wow, they are GOOD. One of them reminded me of Silky Ganache. They are definitely a lot better than the contestants of Rupaul's Drag Race UK lol. Then, the main event starts with a hologram of Rupaul's Drag Race host Michelle Visage. She says something about some evil forces taking over the world and it's up to the queens to save it.
Monet Xchange acted as the host and did the opening number.
Then each queen in the show was introduced, starting with Detox. We were just dying for this look.
So we had Monet Xchange, Aquaria, Detox, Plastique Tiara, Kimchi, and Violet Chachki. Sharon Needles was supposed to be in the show but cancelled due to health concerns. But before Sharon Needles, we were slated to have season 11 winner Yvie Oddly. Not complaining though, we love each queen who ended up doing the Manila show.
Plastique Tiara started off the queens' solo numbers.
Choreography, costume reveals, and acrobatics… they're all there!
And the award for the most bizarre number goes to Kimchi. Even Monet said that only Kimchi could possibly perform something like this lol.
Detox!
Monet Xchange did a song from the musical Pippin — "Magic To Do" — among others.
Aquaria did her version of Bananarama's "Venus" among other songs.
And Violet Chachki? Holy hell. She turned out a cirque du soleil-level performance. There didn't even seem to be any safety equipment.
My daughter and I were screaming the entire time. She said our tickets were worth every peso and I agree. Three members of the audience got to participate in a quick drag contest on stage. We also bore witness to a wedding proposal between two Japanese dudes. The show started promptly and lasted about 2.5 hours? The Patron A section was pretty packed. Cameras weren't allowed so I used my phone to snap all these pics. The M&G however had an official photographer so I got a really good photo with the queens.
Thank you We The Public for bringing over Werq The World to Manila and for the opportunity to meet the queens.
Like this post? Subscribe to this blog by clicking HERE.
Let's stay connected: