So a little over a week ago, I posted about these new IT bags from Japan, ROOTOTE. Last Saturday, my daughter and I went to visit their first Philippine store at The Block, SM North EDSA. All bags were ₱500 off. My daughter and I couldn't let the opportunity pass us by. She was looking for a body bag she could use to school daily that's low maintenance. She is currently using a canvas bag that gets dirty easily and is hard to clean.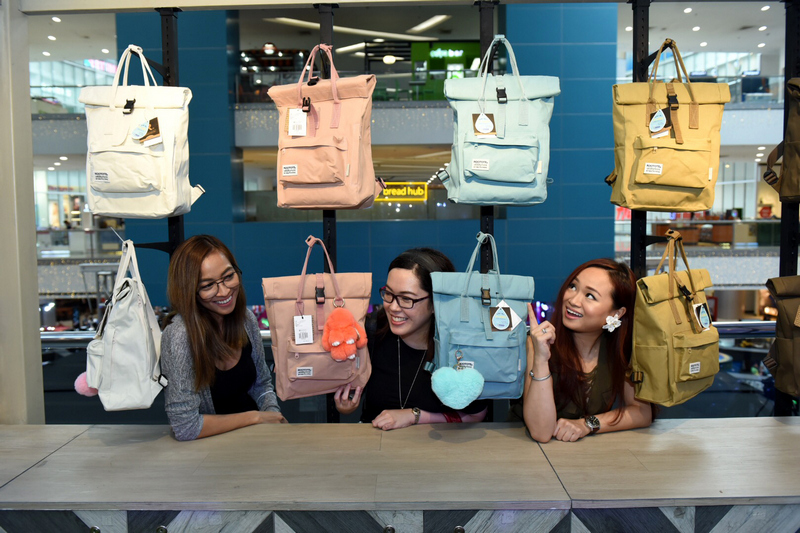 ROOTOTE's trademark bag seems to be these ROOTOTE Ceoroo 2-Way Tote Backpacks (P3,295). You can wear them on your back like a backpack or carry them around on your arm as a tote bag.
You can even attach a fluffy bunny charm to it like this one. They sell the charm for ₱499 each and it's available in different colors. It reminds me a lot of a bunny named Kotetsu who I follow on IG.
It wasn't hard for me to decide which bag I wanted lol. I think Jackie and Angela got the exact same bags.
The ROOTOTE Ceoroo 2-Way Tote Backpack also has a camo print version. Camo prints actually go well with denims.
There are of course other styles available.
This is the ROOTOTE Ceoroo V2 2-Way Tote Backpack (₱2,695). I find it more feminine. It comes in pastel colors too.
Everyone who bought bags last Saturday could have them customized by artists Joly Poa (left) and Bea Araneta (right) for free. If you're into flowers and floral print, Joly is your girl. Bea is more pop art and anime-inspired. They had sample works on display.
My daughter got a ROOTOTE Baby Roo Messenger Bag (₱2,695). She had Bea paint the eyes of Reggie The Cat on it.
My daughter loves the finished product!
All ROOTOTE bags are water-resistant and easy to clean so you don't have to worry about taking them everywhere. They come with lots of pockets and secret compartments too. Whether it's for fun outings, school, or just a casual romp around town, ROOTOTE bags are perfect. Bag prices start at ₱2,295.
ROOTOTE
3/F The Block, SM City North EDSA
Quezon City
You can also purchase ROOTOTE bags online at the ROOTOTE Official Store on Lazada.
Like this post? Subscribe to this blog by clicking HERE.
Let's stay connected: