My girlfriends and I had our annual Christmas get-together dinner at Romulo Cafe last Dec. 17, 2010. It's a nice cozy place but it gets really jam-packed, so reservations are a must if you're planning to dine here.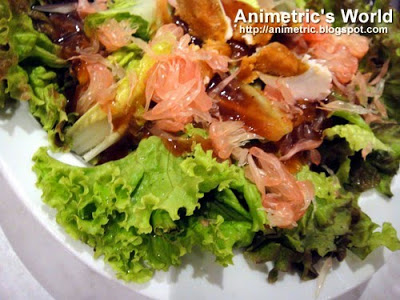 Anyways, the goal of the night was to eat, eat, and eat. We had our hubbies in tow to help us out. We started off with Pomelo Salad (P240, pictured above). Mixed greens are tossed with sweet and tangy pomelo pieces, salted egg slices, and strawberry vinaigrette. Refreshingly delicious!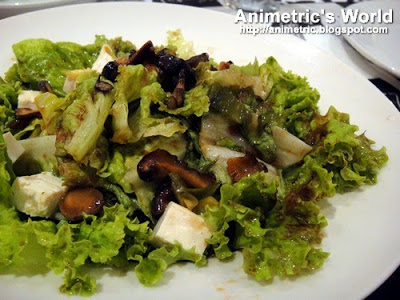 Then we had another delicious salad — Tofu Shitake Mushroom Salad (P250, pictured above). Cubes of soft and silky tofu, shitake mushroom slices, and mixed greens are all drizzled with exceptionally tasty adobo vinaigrette. You'll have no trouble finishing everything down to the last leaf because it's so savory. 😀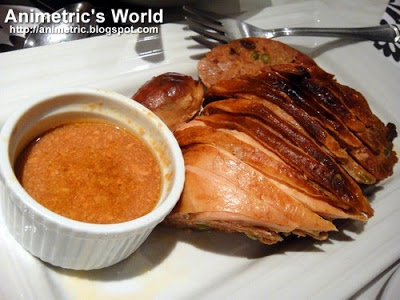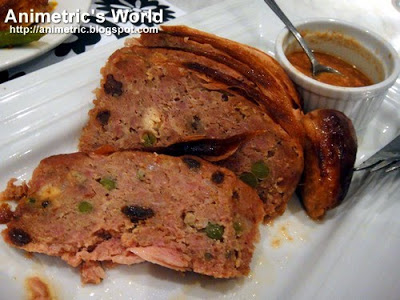 Lola Virginia's Chicken Relleno (P595, pictured above) was a must-order as we heard it was a bestseller. When it was laid out on the table it looked like ordinary sliced chicken with gravy, but in fact it's more like meatloaf inside. Chicken is layered with ground meat, raisins, peas, and hard-boiled egg tidbits. It's very good!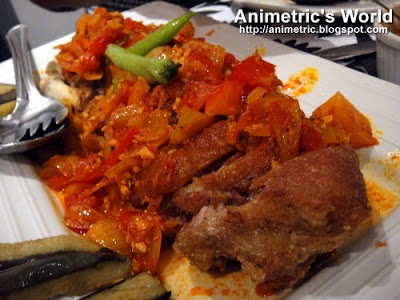 Another fabled dish was the Boneless Crispy Pata Binagoongan (P625, pictured above). It's huge and it's served with eggplant and topped with sliced tomatoes which had the effect of pasta sauce. It was just okay, we were all more enamored with Lola Virginia's Chicken Relleno.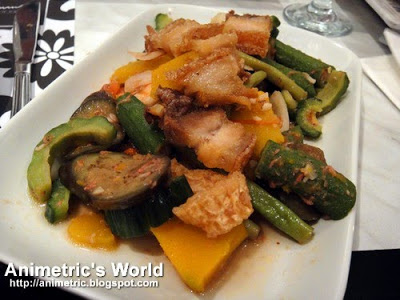 We also ordered Bagnet Pakbet (P180, pictured above) for our veggie fix, since it consisted of squash, ampalaya, okra, and string beans plus some bagnet (crunchy pork with rind). It was okay, I would have liked it better if the bagoong (Filipino shrimp paste) was more pronounced and the bagnet more crunchy — it was kind of soggy when it was served.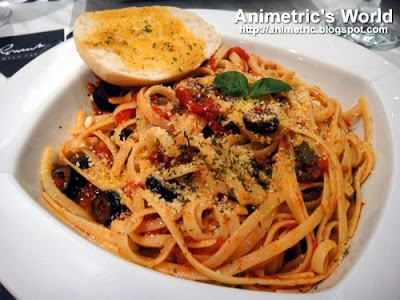 I personally ordered Linguini with Putanesca Sauce and Spicy Tuyo (P220, pictured above). It's really one of the best pasta dishes ever. The sauce is made from tangy fresh tomatoes. The tuyo (salted fish) bits give it a nice kick and there's a generous sprinkling of sliced black olives, herbs, and parmesan cheese. Yummy! 😀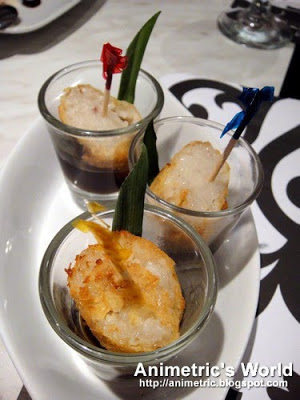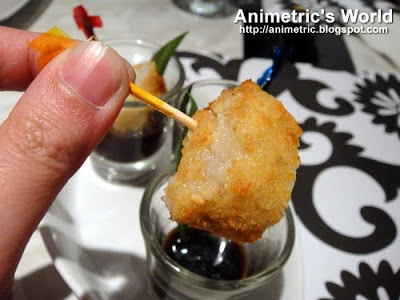 For dessert I decided on Crispy Suman sa Latik (P60, pictured above). One suman (sticky rice cake) is fried till the sides are crisp and then sliced into 3 pieces. They come in their own shot glasses filled with sweet sauce made from melted latik. You dip it before you eat. It's a good way to end a Pinoy-themed meal, plus it's not overly sweet.
Needless to say, we were all so full after our gastronomic adventure at Romulo Cafe. There are still a lot of dishes to try though, so one visit is definitely not enough. 🙂

Romulo Cafe
Scout Tuason cor. Scout Lazcano St.,
Quezon City
332-7275

Like this post? Subscribe to this blog by clicking HERE.
Let's stay connected: