Last December, we stayed in Manila for the holidays. We decided not to join the crowds who were flying out of the country or going out of town. The kids would get bored at home though. They'd ask me "What are we doing today?" every single day. On one such occasion I told them I'm taking them to Shangrila Plaza Mall for some shopping and to try out Rocky Mountain Chocolate Factory.
Rocky Mountain Chocolate Factory in Shangrila Plaza Mall is located right across California Pizza Kitchen.
You place your orders and pay for them at the counter before taking a seat.
Rocky Mountain Chocolate Factory is famous for their Caramel Apples. Now Caramel Apples are a very American thing. They're usually granny smith apples (the green ones) coated with caramel and whatnot. By whatnot, I mean chocolate, marshmallows, nuts, candy sprinkles… the possibilities are endless. Prior to Rocky Mountain Chocolate Factory opening here in the Philippines, they're not exactly readily available. I know I can probably make Caramel Apples at home but I imagine it would be so tedious!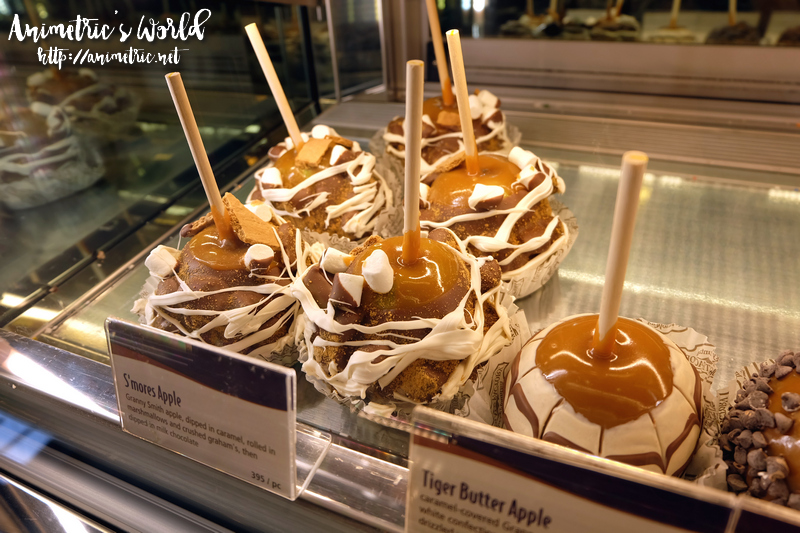 You know I actually got confused which kind of Caramel Apple to order. There are so many variants and they all looked so yummy! Prices range from P290 to P395 per piece depending on what kind you get.
At last we settled on the Cheesecake Apple (P290). So this apple is dipped in caramel, cheesecake frosting, and crushed graham. OMG so yummy! The granny smith apple's natural tartness was complemented by the rich gooey caramel and cheesecake coating perfectly! I loved it so much I got another one to take home.
We also tried their Chocolate Dipped Potato Chips (P190). The rich milk chocolate is freshly melted in all its runny gooey glory. It goes really well with the plain salted potato chips.
Rocky Mountain Chocolate Factory doesn't just serve Caramel Apples and chocolates, they have drinks too. My daughter ordered a Cookiesaurus (P160) while my son tried the Caramel Apple Smoothie (P160). Cookiesaurus combines creamy white and milk chocolate with fresh milk, ice, and cookie bits. The Caramel Apple Smoothie is just that — a caramel apple blended into a drink! I tried a sip and wow, I could taste the granny smith apple bits and rich caramel! So good!
Due to blood sugar level concerns I settled for the Iced Salted Caramel (P150). It was okay, nothing special. Could use a bit more salt though as I couldn't really taste any.
We also tried their Chocolate Dipped Cheesecake (P250). A bit hard to eat because the milk chocolate coating is solid but wow, the cheesecake is absolutely delicious!
They have chocolate truffles sold by the piece. The white and red one is Red Velvet. 😀
I tried their Sugar-Free Mini Pecan Bears which are sold by weight. OMG these trump Turtles Chocolate lol! My grandma used to bring home boxes and boxes of Turtles chocolate filled with caramel and pecans from the US when I was growing up. These are way better!
I don't have a decent photo but another must-try is the S'mores Bar (P195 per piece). Rocky Mountain's luscious handmade marshallow is sandwiched between graham crackers and everything covered with their rich milk chocolate. SO GOOD!!!
Next time I go back to Rocky Mountain Chocolate Factory, I'm going to try Coco Fizz (P399), their caffeine-free chocolate soda. 😀
Rocky Mountain Chocolate Factory serves the most decadent chocolate creations and caramel apples. Perfect for dessert or for gifting to chocoholic friends and loved ones! Yum, I know I'd be happy if someone gave me caramel apples instead of the usual cakes and pastries.
Rocky Mountain Chocolate Factory has branches in Shangrila Plaza Mall, SM Megamall Fashion Hall, UP Town Center, and Molito, Alabang. For more information, log on to their Facebook Page.
Like this post? Subscribe to this blog by clicking HERE.
Let's stay connected: