We took the 5:40am flight to Singapore with our high school friends and their kids last Monday and I didn't sleep! The plan was we'd land in Singapore by 9am, leave our luggage at the hotel, eat, and then go straight to the River Safari.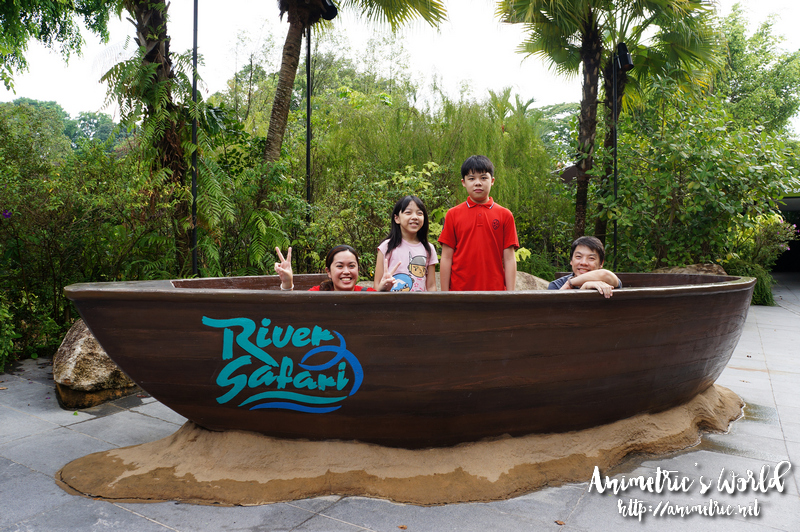 River Safari was almost an hour away by taxi from Marina Bay Sands Hotel. We got there maybe 2pm. It was raining hard during lunch time and we waited for it to let up a bit before hailing a taxi to take us to River Safari.
Good thing the rain weakened to a slight drizzle by the time we arrived at River Safari. We started our adventure by entering this air-conditioned cave with a digital riverbed, lol! The fish and the water actually react if you stomp your feet.
We all got a map to guide us.
River Safari is kind of like a combination zoo and aquarium featuring river animals.

This crocodile reminded me of Godzilla somehow and he was the most impressive sight I saw that day. It doesn't seem like it in this photo but he is huge… much bigger than me.
There were land animals like monkeys too.
Even if it was drizzling we were able to move around hassle-free because there's a roof over our heads for most part.
My daughter thought this bird looked scary.
Animals inhabiting the areas around different rivers are what you will find in River Safari — Yangtze River, Ganges River, etc.
We really liked this Red Panda. Yes, panda. I initially thought he was a fox. He looks like a stuffed toy. He kept moving around on the branches over our heads. It was a challenge getting a good photo.
River Safari is the home to two Giant Pandas named Kai Kai and Jia Jia. We got a good look at them while they were eating!
There are two boat rides in River Safari, both of which you have to pay for separately (they are not included in the entrance fee). Both boat rides get suspended when it rains and so we were lucky the rain stopped! The first one is the Amazon River Quest (SG$5 or P170 per adult / SG$3 or P100 per child). You get close to a number of animals while riding a boat.
One boat can fit 10 people so it was perfect for us since we were 10 in the group! My hubby and daughter stayed in front and he actually took this photo (see photo before this one). We bought ponchos (SG$5 or P170 each) prior because the boat was so wet and it might just rain again.
The second boat ride is the River Safari Cruise (SG$5 or P170 per adult / SG$3 or P100 per child). You ride a much bigger boat for a leisurely cruise.
There was a nice breeze while we were cruising so it was a comfortable ride.
We saw animals like elephants from a distance.
It was pretty relaxing after walking so much. 🙂
The last area we explored was the Amazon Flooded Forest.
We bought Chocolate Custard Panda Paus to snack on before leaving River Safari. I forgot how much it cost, I think maybe SG$2 each? But it was really good! Piping hot and soft chewy bread is filled with deliciously creamy chocolate custard… yum!
Entrance to River Safari costs SG$28 (around P950) per adult and SG$18 (around P600) per child. Boat rides are optional. You get 10% off if you buy your tickets in advance at http://www.riversafari.com.sg/.
Some River Safari tips:
You don't need a whole day for this, we were able to finish going through the entire park and ride the boats in around 3 hours. It was pretty deserted when we went though since it was raining hard earlier on.
Buy your tickets online in advance for a discount.
You don't need to buy a poncho because the Amazon River Quest ride itself won't get you wet. Our boat was all wet because of the earlier downpour earlier. If you have a plastic bag or something similar you can sit on that in case your boat's seats are wet.
Wear comfortable shoes because you'll do a lot of walking.
River Safari
80 Mandai Lake Road, Singapore
+(65)6269-3411
http://www.riversafari.com.sg/
Like this post? Subscribe to this blog by clicking HERE.
Let's stay connected: