When I got the invitation to preview Rita's Ice Custard Happiness in V-Mall, my curiosity was piqued. Ice Custard Happiness? It's actually a franchise from the US and as the name suggests, they sell sweet things — mainly drinks and dessert. I've had ice cream, frozen yogurt, and custard… but ice custard? Hmmm…
So the other night we went to Rita's. It looked like the usual ice cream place — there's a counter where you can choose your flavors, place your orders, and get the finished products. Rita's specializes in two things: Italian Ice and Frozen Custard.
Rita's Italian Ice come in a variety of flavors which change daily (because they're made fresh daily). They're displayed like ice cream. Italian Ice is well, flavored ice that's similar to sherbet. There were over a dozen flavors when I visited… above are Cherry Cheesecake, Chocolate Chip Cheesecake, Sugar-free Mango-Peach (sweetened with Splenda), Alex's Lemonade, Mint Chocolate Chip, and Chocolate.
There's also Banana Split, Cotton Candy, Cherry, Blueberry, Dulce De Leche, Oreo Cookies and Cream, etc. Italian Ice costs P100 for a regular serving, P125 for large, and P250 for a quart.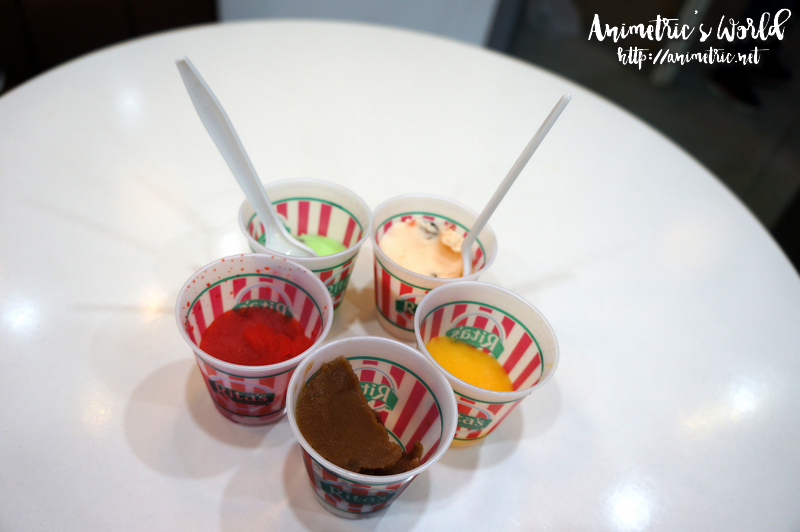 Mymomfriday and I got sample cups of all the flavors to try.
Let's go to the Frozen Custard. Rita's old-fashioned frozen custard is made the way ice cream is processed BUT using ingredients for making custard (lots of cream, eggs, and sugar!). The resulting custard is smooth, rich, creamy, dense, and well… ice-cream like. There are 3 flavors of custard: Vanilla, Light Vanilla (60% less fat compared to Vanilla), Chocolate, and Coffee.
Yes we tried them all! My personal favorite is Light Vanilla because it tastes exactly like Vanilla but with 60% less fat, lol! It's like eating ice cream and flan at the same time.
At Rita's you can order either Italian Ice or Custard or both at the same time. Both? Yes, like this Gelati (P130 regular / P160 large). Choose an Italian Ice flavor, they will put it in the cup and then top it with your choice of custard flavor. Voila! We got Dulce De Leche Italian Ice topped with Vanilla Custard. It's so rich that it's definitely good for sharing.
I also tried the Blendini (P130 regular / P160 all custard) — again choose an Ice and choose a custard. Then you also get to choose 2 toppings (I picked hot caramel and Reese's peanut butter cups — there are a lot more available like Oreos, candy sprinkles, chocolate chips, Chocnut, etc.). After making your choices, everything is mixed/blended together and you get a Blendini!
My hubby decided to get the Oreo Cookies N' Cream Milkshake (P160) — it's vanilla custard mixed with Oreo cookies then topped with a dollop of whipped cream topped with a cherry. Wow, it's super rich and thick even if we had the vanilla switched to light vanilla. He liked it a lot though!
Our son had a Frozen Lemonade (P120 regular / P140 large). You can have this either with pure lemon ice or mix lemon ice with another Italian Ice flavor. He had it with pure lemon ice and loved it! It's very refreshing, really perfect during hot days.
You can have Custard on a cone (P125 regular cone / P160 large cone) or as a Sundae in a waffle cone too — you get to choose 2 toppings plus it's topped with whipped cream and a cherry (P160 regular / P195 large).
Thank you Rita's Ice Philippines for having us over!
Rita's Ice Custard Happiness' first Philippine store is located in V-Mall near Watsons. We'll be back! I wish they'd offer the custard cakes I saw on their US website soon. 😀
Like this post? Subscribe to this blog by clicking HERE.
Let's stay connected: