What's new from Revlon? Revlon Ultra HD Lip Lacquer! I'm like yay… more options when it comes to lip color are always welcome and so of course I was excited!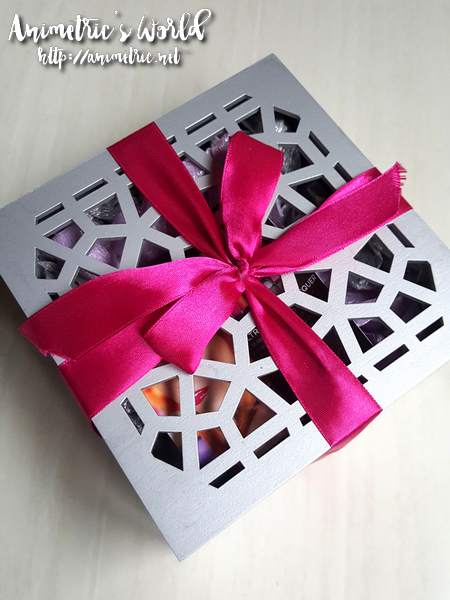 I got this pretty package from Revlon Philippines a while back. It was the perfect way to start off the year since I got it sometime in January.
Whoa! Check out these new Revlon Ultra HD Lip Lacquers! They retail for P525 each and they're available in 15 high-definition shades!
I got 4 shades: 555 Amber, 560 Opal, 515 Pink Ruby, 570 Smoky Topaz
I was expecting a sponge-tipped applicator to go with these lipsticks but surprise — we get brush applicators! The term Lacquer is spot on because it sort of reminded me of nail polish.
So here are swatches of Revlon Ultra HD Lip Lacquer.
Revlon Ultra HD Lip Lacquer in 560 Opal
Revlon Ultra HD Lip Lacquer in 555 Amber
Revlon Ultra HD Lip Lacquer in 570 Smoky Topaz
Revlon Ultra HD Lip Lacquer in 515 Pink Ruby
What I like about Revlon Ultra HD Lip Lacquer:
It uses Revlon's wax-free gel technology so the lip lacquers aren't sticky.
They're surprisingly easy to apply because they practically glide on your lips.
Love the whipped vanilla and mango cream scent!
They're super pigmented so you get full solid coverage even for the shimmery shades like 555 Amber.
They're surprisingly moisturizing and won't dry out your lips.
There are 15 vibrant shades available, so you'll surely find the right one for you.
This is great for picture-taking because your lips really stand out!
Price is reasonable at P525 each.
Downside? Okay, these Lip Lacquers don't really dry completely so they're always kind of moist (but super shiny!) on your lips. If I apply a bold color like 515 Pink Ruby or 560 Opal generously, it has a tendency to transfer to my teeth quite easily especially if I move my mouth a lot right after application (you have to let it dry a bit).
Revlon Ultra HD Lip Lacquer is available at P525 per tube at Watsons and leading department stores nationwide.
Like this post? Subscribe to this blog by clicking HERE.
Let's stay connected: