So, you've availed of a great deal on a roundtrip Manila-Osaka-Manila Cebu Pacific ticket… what's next? Finding a nice and reasonably priced hotel to stay in, of course!
If you're say, a family of four like we are, Hearton Hotel Nishi Umeda's triple room is highly recommended. For 16,500 yen, you get three beds, two of which are double beds in one room. If you want to go a little lower in terms of cost, get a double room. The hotel allows sharing your bed with kids below 12 years old at no extra charge and the double room is cheaper. My hubby can't sleep well in cramped spaces so we opted for a triple room like the one below.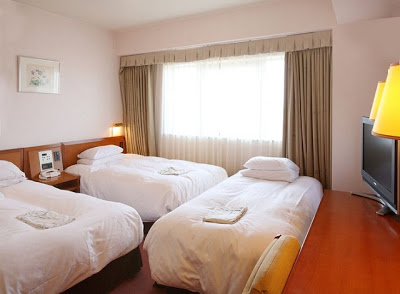 Our triple room was equipped with a high-definition LCD TV, hair dryer, trouser press, refrigerator, and Shiseido toiletries like liquid soap, shampoo, and conditioner. We also got daily supplies of hair brushes, toothbrushes with toothpastes, razors, and cotton buds.
Breakfast at Hearton Hotel's Garden Café is also very reasonably priced and delicious. For 1000 yen per adult and 500 yen per child, you can avail of their east meets west buffet which consists of everything from fresh garden salad to curry rice, ham and eggs, tofu… you also get to drink all sorts of coffees, teas, and juices.
Hearton Hotel Nishi Umeda's location is excellent as well. It is a stone's throw from Umesankoji Mall, which is a food-tripping paradise in itself with all the restaurants inside it. There's a convenience store named Heart In right across, although it's not 24/7. The hotel is also a mere 4 minute walk to JR Osaka Station, which is one of the main train stations which can connect you to virtually any line on the map, including the Kansai Airport Line. We were able to go to the neighboring regions of Kyoto and Nara easily as a result. Big department stores like Daimaru, Hankyu, and Hanshin are also walking distance from the hotel. It's really very convenient.
Although the staff in the front desk are very courteous, helpful, and accommodating, they speak only very basic English (as is the case with most of Japan). Whenever I had special concerns (like asking them where the nearest 100 yen shop was), I had to resort to asking them in Japanese so they would understand.
Like this post? Subscribe to this blog by clicking
HERE
.