A little over 2 weeks ago, I went to visit my friend's newly opened hair center in Greenhills, Rejuvehair Herbal Solutions. It's located at Sekai Center where Masuki is.
It's on the second floor right across Masuki and beside Cafe Monaco.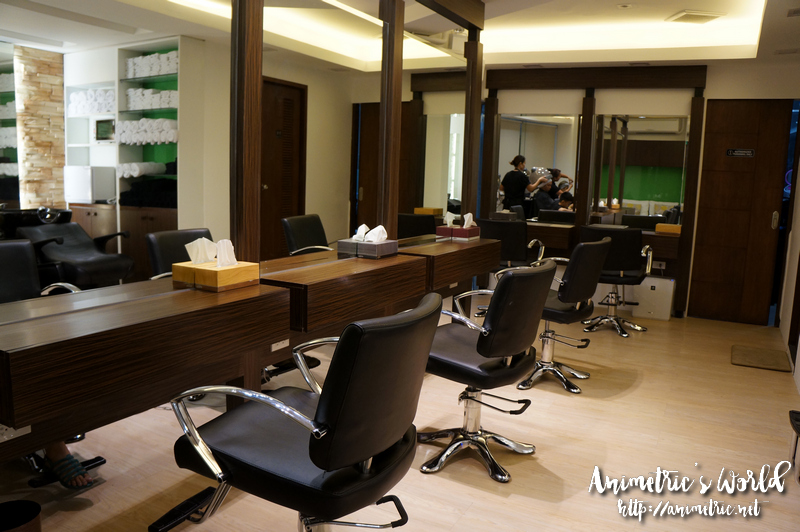 Rejuvehair seems a lot like a salon but it's actually not a salon.
It's a place where you go to address pressing hair problems like thinning hair, falling hair, white hair, and even damaged hair without resorting to chemicals.
Did someone say damaged hair? That pretty much describes my hair because I color it a lot. I've stopped rebonding but because of white hair I color almost every quarter. It's really drying. My hair ends are fried.
Rejuvehair uses all natural ingredients in its treatments and hair care products. My friend let me see them — there are stuff like Himalayan Pink Salt, coffee beans, henna, and several other herbs which are and will remain top secret, lol.
While having your hair treated you can have a drink, I opted for hot tea. You can even order food from Cafe Monaco next door. The Bibimbap was highly recommended so I ordered one. Really good! I finished it all while having my hair treated, haha.
So anyway, while I was there I had a brief consultation with the Singaporean Hair Specialist Choon Leong Chew. He was like some sort of hair psychic. He took a look at my hair and scalp and told me that I usually take a bath at night and that I don't dry my hair 100% before going to sleep. Right. He was spot on in his assessment. He also said that hormones are part of the reason why my hair is the way it is. His recommendation? Rejuvehair's Signature Hair and Scalp Herbal Treatment. My hair was shampooed and then my scalp was massaged. Then they started applying this mud-colored paste to my hair.
They covered every single strand. It took a while because my hair is so thick. But now that I'm 40 and a lot of people I know are problematic about thinning hair, I consider myself somewhat lucky to have a head full of it.
After covering my hair with the herbal mixture, it was covered and steamed/ionized.
Then the paste was washed off.
With Singaporean Hair Specialist Choon Leong Chew
After the paste was washed off, my hair was shampooed, conditioned, and blow-dried. Then Mr. Chew applied some treatment oil.
My hair was considerably smoother and my telltale white strands were all gone (without using dye!). My friend said their treatment also slows the growth of white hair, curbs hair fall, and stimulates/accelerates healthy hair growth.
Rejuvehair also has their own line of herb-based hair care products so you can maintain your hair at home.
How I wish my hair can be like this forever. I was told that it can happen if I complete the treatment cycle consisting of at least 6 sessions. They actually have discounted package rates for this.
You know how I always do a shampoo test whenever I have my hair treated? This is how it looked like after I had shampooed and dried my hair at home on my own. While it's not as straight because I don't have the patience to do any serious blowdrying, it's still better than what I started with. My friend told me that for my hair type, 2x a month would be okay so theoretically I should be good after 3 months?
Anyhow, the rates for Rejuvehair's Hair & Scalp Signature Herbal Treatment are as follows:
Extra Short – P1,520
Short – P1,720
Medium – P2,220
Long – P2,820
Rejuvehair also offers other services like Organic Manicure / Pedicure, Foot / Back Massage, Aromatherapy Hand and Foot Spa, etc.
For more information, promos, and updates, check Rejuvehair Herbal Solutions on Facebook. They have discount vouchers posted there as well. 🙂
Like this post? Subscribe to this blog by clicking HERE.
Let's stay connected: