I still remember how my mom would always order a Black Forest Cake when I was growing up. It has always been her favorite cake flavor. Whenever I see a Black Forest Cake, I tell my kids that it's grandma's favorite.
Anyhow, I was recently treated to a Red Ribbon Black Forest Cake. It has been improved as it now promises to be a lot more chocolatey!
It's available in two sizes: Regular for P550 and Junior for P350.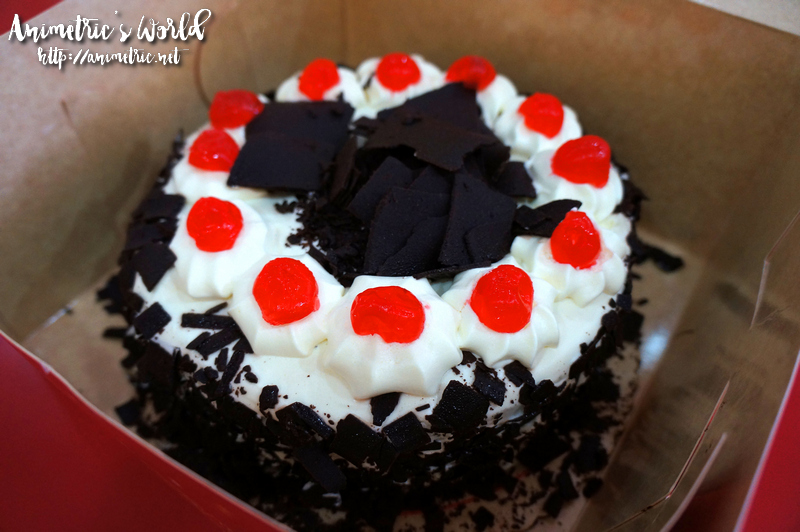 I was quite excited when I picked up my cake as I haven't had Black Forest in a long time.
As I've mentioned earlier, this improved version of a Red Ribbon classic is now richer and more chocolatey. They even upped the amount of chocolate shavings that cover the cake! I immediately tried a slice at home and I was pleasantly surprised by how deep and rich the chocolate cake itself tasted. In the middle of the deliciously moist cake layers is equally yummy sweet-smelling cherry-laced cream. Even hubby liked it and he's not really into cakes. This will definitely make a nice addition to Noche Buena plus it won't put a dent on your wallet! 😀
Anyhow, the Red Ribbon Black Forest Cake figures prominently in Red Ribbon's Christmas video, "Ang Red Ribbon Christmas Story ni Emman". It's a 3-minute clip about a young boy named Emman. He is terribly disappointed when he doesn't see gifts under the Christmas tree. I can relate because I can see my own son reacting the same way to a Christmas with no gifts (although he probably wouldn't cry), lol. So anyhow, Emman is transported to a literal Black Forest where everything is made of Black Forest Cake and through his brief stay there, he experiences the joy of giving and sharing. I'm definitely going to sit my kids down with this video later tonight because I think they can learn a thing or two from it just like Emman!
Like Red Ribbon on Facebook for updates on the latest products and promos! 🙂
Like this post? Subscribe to this blog by clicking HERE.
Let's stay connected: