Happy Easter! Had lunch at Red Lobster in S Maison earlier today. We tried Red Lobster in California a few years ago and from what I remember, most of the food had a lot of cheese. Kind of cloying really. But then I guess it's because of what we ordered. This time, I was determined not to overdo the cheesy dishes.
Most malls are put to the test when it comes to air-conditioning come summertime. I'm happy to say that S Maison has sufficient air-conditioning so it's cool and comfortable. I like that Red Lobster here is bright and cheery. I remember Red Lobster being dim and kind of depressing when we had lunch in California.
We were served complimentary Cheddar Bay Biscuits while we waited for our orders. This is a Red Lobster signature offering. We had this in the US too. You can order 6 pcs for take home for P195. It tastes like the typical biscuit, I think you can make this at home using Bisquick and cheddar cheese.
For our starter, we had Honey and Bleu Cheese Salad (P450) which was marked as a Must Try. It's a simple and delicious salad comprised of romaine lettuce, lollo rosso lettuce, bleu cheese dressing, honey, peanuts, croutons, and parmesan cheese. I liked the contrast between the salty-tart cheeses and honey. I think I can make this at home though.
Then we had Shrimp and Kani Pizza (P550), also marked as a Must Try. There are eight slices, so hubby, the kids, and I were supposed to have 2 slices each but I could only manage one as it got kind of cloying for me. Everyone else thought it was super yummy though.
The Bar Harbor Seafood Bake Pasta (P650) is another menu "must-try". It's spaghetti, garlic butter sauce, mussels, scallops, squid, and shrimps. It's surprisingly light and tasty, not at all cloying.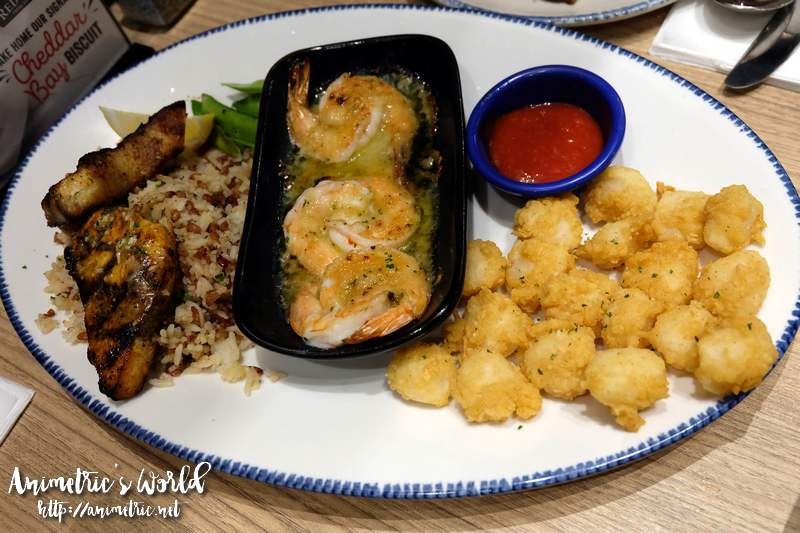 I think Red Lobster's main attractions are their seafood platters, referred to in the menu as Seafood Feast Combinations. We ordered the Seafarer's Feast (P1,450) which has grilled swordfish, scallops (cooked popcorn style), shrimp scampi, wild rice, snow peas, and cocktail sauce. It was okay. I think Cyma Greek Taverna does swordfish better… but this is sufficient for a family of four to get a taste of the various seafood offerings.
Overall we had a satisfactory lunch at Red Lobster. Service is excellent — prompt and polite. We agreed that the food isn't something we'd keep coming back for, but it's good to try at least once.
Red Lobster
Level 1 S Maison, Seaside Blvd, Pasay City
0927-9690036
Like this post? Subscribe to this blog by clicking HERE.
Let's stay connected: