This ECQ (now MECQ) is proving to be a good time to discover new things, more so when it comes to food. It's just too hot to be spending time in the kitchen so I need shortcuts to help me out. This week, it's Ersao Frozen Delights. Ersao is one of the first bubble tea snack places to open here in the Philippines. We've always enjoyed their Spicy Chicken, Spicy Pork, and Spicy Squid. I love that they now deliver frozen food you can easily cook at home!
They have well over a dozen frozen food items to choose from but I ordered my faves: Spicy Chicken (P195 for 300g), Spicy Squid (P200 for 300g), Spicy Pork (P210 for 300g), Taiwan Sausage (P295 for 500g), Pork Dumplings (P230 for 30 pcs), and Kuchai Gyoza (P195 for 12 pcs). They have a Buy 5, Take 6 promo this ECQ so you get the best deal if you avail of it.
Each pack comes with complete cooking instructions. For example, for Pork Dumplings, you can either fry them, boil them, or steam them.
The Pork Dumplings are securely packed.
I chose to steam them because it's the easiest and most efficient method for me. My rice cooker has a steaming tray so I can cook rice and steam Pork Dumplings at the same time. Healthier too since I don't need to use oil.
The Pork Dumplings come with 2 packets of Ersao Special Sauce.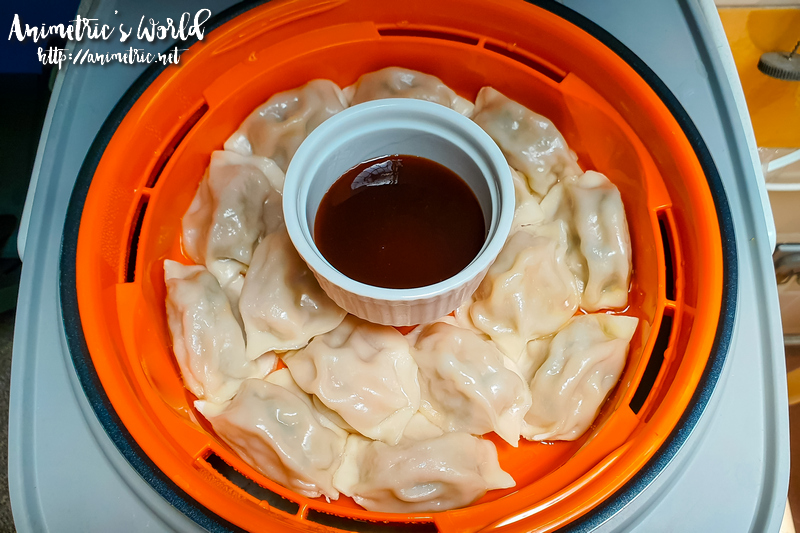 Voila, the Pork Dumplings and rice are cooked at the same time! No more sweating in front of a hot pan. The Pork Dumplings are really good. I liked the chewy wrapper and the juicy meat filling. They go really well with the Ersao Special Sauce. Next time I'll try to fry them.
The Spicy Chicken, Spicy Squid, and Spicy Pork are packed like this.
I deep fried the Spicy Chicken for maximum crunch.
Wow, it's just like how we'd have them in the store! Their spicy snacks are still our faves. This time though, I served them with rice lol. These are so flavorful they don't really need sauce. 😀
Check out their Taiwan Sausage! I followed the cooking instructions to a T and got perfectly cooked sausages.
First you cook them in 100ml water.
Cook until the water evaporates.
Then add 1oml cooking oil and fry. You'll get nicely cooked sausages that are not greasy. 😀
We like everything we ordered but our faves are probably the Spicy Chicken and the Taiwan Sausage. Will definitely order again! 😀
Here's the complete list of available Ersao Frozen Delights:
Pork Dumplings 30pcs @P230
Kuchai Dumplings 30pcs @P235
Seafood Dumplings 30pcs @ P245
Pork Gyoza 12pcs @ P185
Kuchai Gyoza 12pcs @ P195
Seafood Gyoza 12pcs @ P210
Spicy Chicken 300g @ P195
Spicy Pork 300g @ P210
Spicy Squid 300g @ P200
Pork Meatballs 400g @ P220
Mushroom Meatballs 400g @ P230
Taiwan Sausage 500g @ P295
Egg Noodles 750g 5rolls @ P115
Plain Noodles 750g 5rolls @ P110
Ersao Frozen Delights are reasonably priced, easy to prepare, and delicious. They're available for takeout and delivery. To order, simply send a Viber message to 09173094577 or send a message to the Ersao Facebook Page. Payment can be made via BDO or GCash. Book your own delivery via GRAB, LalaMove, Angkas, or Mr. Speedy anywhere in Metro Manila.
Like this post? Subscribe to this blog by clicking HERE.
Let's stay connected: