Hubby and I went out to lunch one weekday noon determined to try Ramen Daisho, one of the few ramen places we haven't eaten at. I'd like to apologize for the photos as I used only my cellphone that day because I didn't have my camera with me.
Ramen Daisho is located near Pure Gold along Shaw Boulevard in Mandaluyong City.
It's a simple, no-frills ramen place.
Upon the server's suggestion, we each decided to order a Lunch Set for P380. You get the following with an order:
Shredded cabbage salad with sesame dressing
A choice of small-sized ramen (Miso Ramen, Shoyu Ramen, Shio Ramen, Hakata Tonkotsu Ramen, or Hakata Garlic Abura-Men)
1/2 order of a rice dish (Yakibuta Chahan, Beefy Curry Rice, or Steamed Rice)
3 pcs. Gyoza
Each table has its own set of condiments.
In a few minutes, our orders were served. We were happy with the quick service. Here's the cabbage salad, it tastes like the shredded cabbage with sesame dressing you usually have in tonkatsu places.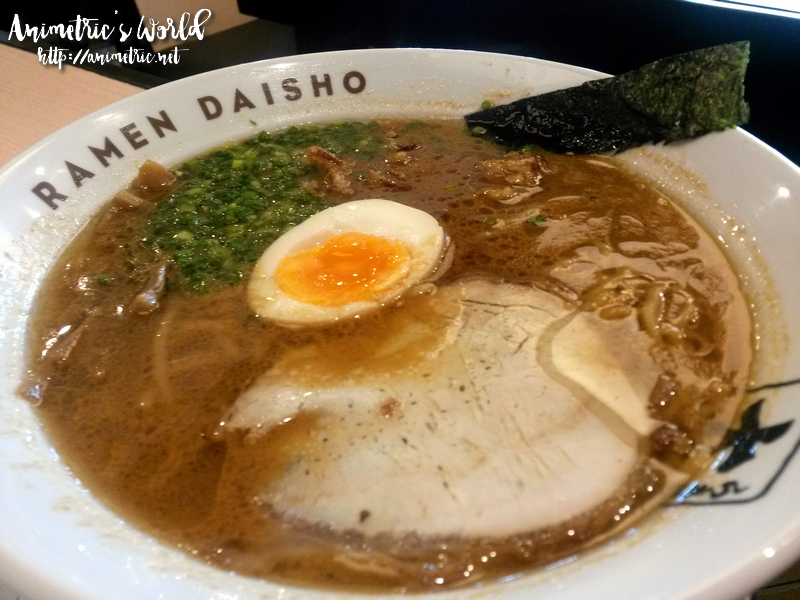 Hubby opted for the Miso Ramen. Normally a small-sized order of Miso Ramen like this one would set you back P300 so the lunch set is really worth it. It had a deeply flavorful and surprisingly thick, heavy broth. It was served with half a ramen egg and a thin slice of lean, tender pork plus chopped green onions and a strip of seaweed.
He had the Beef Curry Rice with it.
Meanwhile, I ordered the Hakata Tonkotsu Ramen. I was expecting its milky white broth to be thick and creamy but it was actually light and comforting. Yes, it was a lot lighter than hubby's Miso Ramen. I liked that it had bamboo shoots, seaweed, half a ramen egg, and again that lean, tender slice of pork. Ramen Daisho's noodles are cooked perfectly al dente so they're firm and chewy. The ramen egg is okay, lightly seasoned and moist, but I still think that Ikkoryu's is the best. I usually have a hard time finishing a bowl of ramen because the broth is usually rich and cloying but this one was actually easy to slurp all the way through.
I had the Yakibuta Chahan and it was soooo good… better than the Beef Curry Rice I think.
We each got 3 pcs. of Gyoza to go with our lunch specials. Yummy and filled with pork and leeks, as per the usual gyoza.
Our P380 each sure went a long way at Ramen Daisho. For me it was really the perfect lunch — the bowl of ramen was neither too big nor too small, the half serving of rice and gyoza complemented it perfectly too. Everything was delicious. Service was quick and efficient. The place was bright, clean, and comfortable too. In other places, P380 just gets you a big bowl of ramen so this is a really good deal.
Ramen Daisho
Unit 2 Sunshine Square,
Liberty Center, Shaw Blvd., Mandaluyong City
774-0036
Like this post? Subscribe to this blog by clicking HERE.
Let's stay connected: