Sometime last week hubby and I went city hall-hopping in order to pay real estate taxes. You get the biggest discount if you pay in December after all — a whopping 20%! Plus there aren't any long lines. It was the day after typhoon Ruby if I remember correctly and so traffic was relatively light.
By lunch time, we found ourselves in Kapitolyo, Pasig. We decided to break for lunch at Ramen Cool.
The place was nice, cool, and bright.
Each table is equipped with a complete set of condiments.
When asked for drinks, we opted for their cold service tea — Mugicha, which is Barley Tea.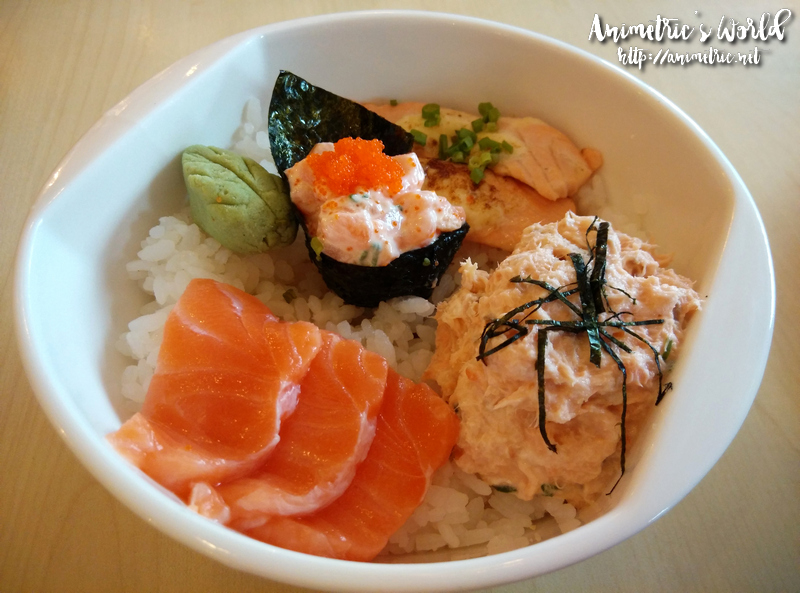 I wanted something that wasn't fried so I opted for Salmon Lovers (P235). Sushi rice is topped with salmon sashimi, grilled salmon, salmon salad, and salmon sushi. It's all salmon. I would've liked it more had there been less mayo. I felt the overuse of mayo defeated the entire purpose of not eating greasy fried food.
Hubby and I shared an order of Sukiyaki (P245). I was happy with this as it tasted okay and it was big enough to generously serve 2 people. Served piping hot, it was perfect for the cool post-typhoon day. There was enough beef, noodles, veggies, and soup for us both.
Hubby ordered Chashu Mix Rice (P100). It's good for one person, especially if that person is hungry, lol! Tastes like the typical Japanese fried rice.
Hubby had Seared Tuna Salad (P200) to go with his Chashu Mix Rice. For P200, you get several slices of pepper-crusted seared tuna and salad on the side. We were told it comes with sesame dressing but the dressing didn't taste anything like sesame at all. It tasted like watery mayo with lots and lots of sugar, in short it was yucky. Good thing there was gyoza sauce among the condiments and that actually went well with the side salad.
We spent a total of P780+ for lunch and felt satisfied afterwards. It wasn't the best meal but it was pretty okay. We didn't order ramen because none of them looked appetizing from the menu, lol! Overall, food here is reasonably priced and okay in general — average taste plus serving portions are just right. I probably wouldn't mind eating here again if I find myself in the area.
Ramen Cool
25 East Capitol Drive,
Kapitolyo, Pasig City
Like this post? Subscribe to this blog by clicking HERE.
Let's stay connected: