We were invited to stay overnight at the newly opened Ramada Manila Central last July 7, 2012. The hotel is located right in the heart of Chinatown.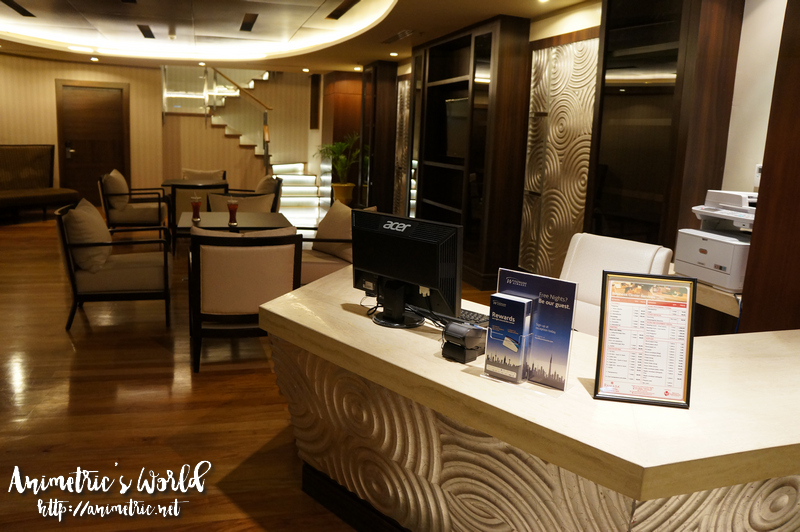 Our floor had its own business center which has a computer and printer you can use and a lounge area equipped with tables, chairs, a couch, and a flatscreen TV. You can actually hang out here.
Since there were four of us (hubby, myself, and two kids), we were assigned to the Ramada Suite. It costs around P5,000+ a night which is very reasonable considering it's their most expensive type of room. The suite can accommodate three people comfortably, thus the hotel graciously provided us with an extra bed (not shown in photo). Room rates start at around P3,000.
The suite is divided into four sections. First, there's the bedroom which has a king-sized bed shown in the previous photo, an LCD TV, a study table and chair, plus closets with hangers, robes, and a digital safe.
Then there's the bathroom which has a bath tub, toilet, and an enclosed shower area (not shown in photo).
There's a complete set of toiletries in the bathroom.
The living room area is furnished with a recliner, a spacious couch (not shown in photo), tables, and a flatscreen TV.
Finally there's the study.
There are also complimentary bottles of water, coffee, and tea.
We also had a lovely view of Binondo from our bedroom window.
That evening, we had dinner at News Cafe, one of Ramada Manila Central's restaurants.
We availed of their special soft opening set menu. For a very affordable P295, you get a three course dinner consisting of either soup or salad, main course, and dessert. For the first course, you can choose to have Crispy Taco Salad with Minced Beef, Salsa, Olives, and House Dressing (pictured above). It's pretty good, everyone finished their individual serving.
If you'd rather have soup for your first course, you can choose either Velvety Pumpkin Soup with Smoked Bacon (pictured above) or Chicken Consomme with Julienned Vegetables (not shown). Like the taco salad, I quite enjoyed the pumpkin soup too.
For the second course, you can choose from Twice Cooked Filipino Beef Ribs Adobo (pictured above), Taiwanese Three Cups Chicken with vegetables and Rice, or Pub Style Fish and Chips with Tartar Sauce. I didn't really like this dish as the beef wasn't tender and I felt a bit more sauce would've made it more flavorful. Unfortunately I was unable to have the third course which was dessert because I had to retire early as I wasn't feeling well that weekend.
After breakfast the next morning (accommodations include free breakfast), we toured the hotel. They have an expandable ballroom for events.
They also have a function area at the top floor with a view of the Manila skyline. I noticed that there's no swimming pool.
Ramada Manila Central also offers free shuttle service to Lucky Chinatown Mall for guests. Everything else is pretty much walking distance — Binondo Church, shops like Eng Bee Tin (famous for their hopia), and a host of authentic Chinese eateries. Basement parking is available for guests with cars. There's free wifi internet access too.
All in all we had a pleasant stay, albeit I was not feeling well when we checked in. The hotel staff are very attentive and quick to respond to requests. The room is big, comfortable, and fully furnished with everything you need.
Ramada Manila Central
Ongpin cor. Quintin Paredes St.,
Binondo, Manila
588-6688
http://www.ramadamanilacentral.com/
Like this post? Subscribe to this blog by clicking HERE.
Let's stay connected: