When I bought a Rainbow Loom Starter Kit for my daughter last March, it came with a plastic hook. The Rainbow Loom Philippines Facebook Page soon announced that new kits equipped with metal hooks would be sold by the time the next shipments arrive. But what about those of us who bought the first generation kits with plastic hooks? Simple… get a Rainbow Loom Upgrade Kit!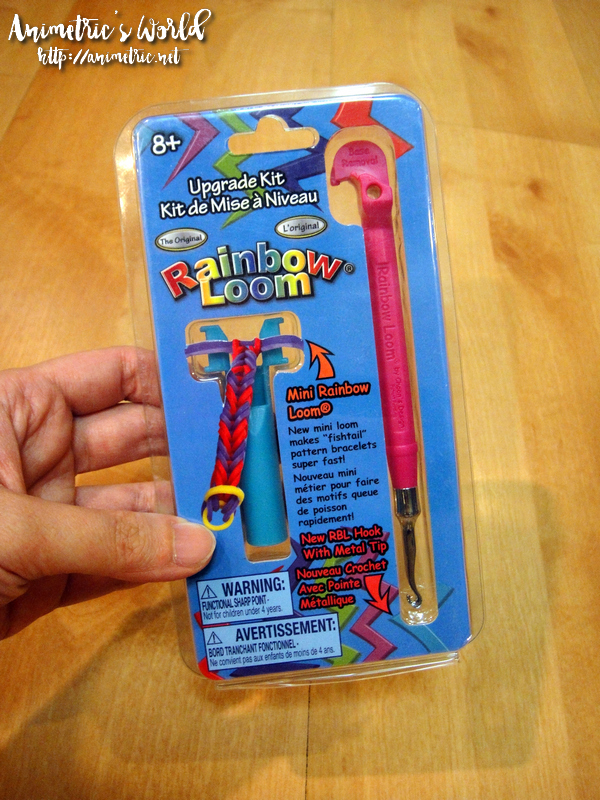 Rainbow Loom Philippines also brought in the Rainbow Loom Upgrade Kit. It costs P249.75 and it's sold in the same places you can get your Rainbow Loom kits and refills.
The Rainbow Loom Upgrade Kit contains two things: the metal version of the Rainbow Loom plastic hook and a mini-loom which lets you make Fishtail bracelets easily.
The metal hook actually comes with different colored handles and we got a hot pink one.
Here's the two Rainbow Loom hooks side by side. As you can see, the metal version seems more sleek and refined. The edge is also sharper, so I have the impression that it will be more precise when used in making bracelets. I was right. Looming is so much easier with the metal hook. My daughter can now create more complicated bracelet designs with ease. I recommend getting one if you're really into looming. The mini loom is pretty handy too as you can just put it in your pocket and make fishtail bracelets practically anywhere.
The Rainbow Loom Upgrade Kit is available for P249.75 at leading toy stores (Toy Kingdom, Toys R' Us). Log on to http://rainbowloom.com.ph/ for more information and a complete list of stores which carry official Rainbow Loom products.
Thank you Rainbow Loom Philippines for sending us this Rainbow Loom Upgrade Kit! 😀
Like this post? Subscribe to this blog by clicking HERE.
Let's stay connected: