I bought a Rainbow Loom Starter Kit for my daughter from Toy Kingdom last March. It's been two months and then I saw this at Toys R Us Robinsons Magnolia earlier… Rainbow Loom Monster Tail!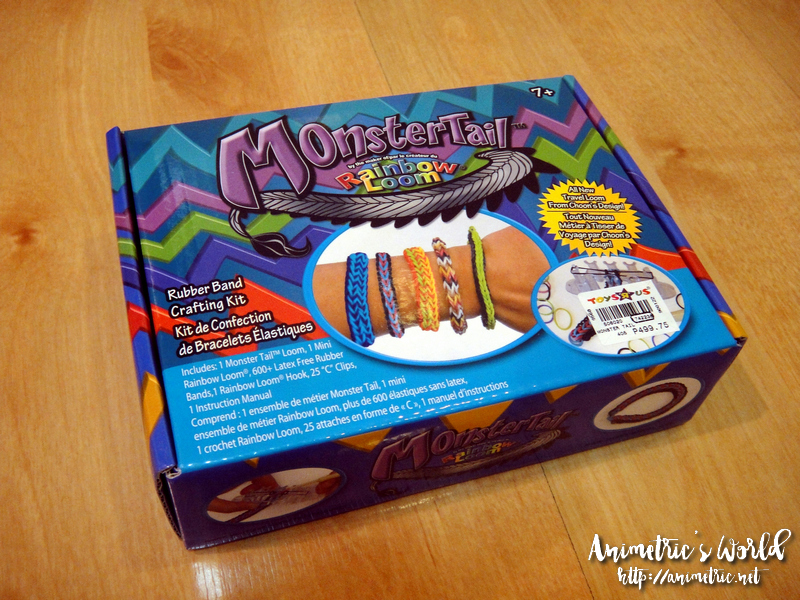 Think of it as an expansion pack for your existing Rainbow Loom, although not exactly because both kits are designed to be used on their own. I actually just bought this several hours ago, lol… excited much!
Rainbow Loom Monster Tail costs P499.75.
Let's unbox the Rainbow Loom Monster Tail, shall we?
A Rainbow Loom Monster Tail kit contains a Monster Tail Loom, a plastic hook, a mini Rainbow Loom (the blue thing), 25 "C" clips, 600+ latex free rubber bands, and an instruction manual.
My daughter and I decided to try making a Single Band Quadfish, the first Rainbow Loom Monster Tail project on the instruction manual.
Wow, it looks complicated. The first band was kind of hard to set up, I remember spending quite a lot of time on it. After that, it got easier. She picked pink, blue, and green for our Single Band Quadfish.
Although both of us worked on this bracelet, daughter made more than half of it. She's a lot better than me when it comes to making loom bracelets! It's amazing how you can craft something like this with such a small loom!
Securing the bracelet with a C-Clip was kind of tricky, but we did it!
Here's our first official Rainbow Loom Monster Tail bracelet!
There instruction manual included in the kit teaches you to make two kinds of bracelets. For more designs, you will have to check out the Rainbow Loom channel on YouTube. My daughter remarked that this is more challenging compared to her original loom. If you're just starting out, I recommend getting the original Rainbow Loom first since it has more levels of difficulty (beginner, intermediate, advanced) and it's more versatile since you can actually take the loom apart and rearrange how the rows are set up. This one doesn't really have a beginner level, it kind of starts at intermediate. You're in for a whole new world of bracelet designs with this kit!
Rainbow Loom Monster Tail is available for P499.75 at leading toy stores like Toys R Us and Toy Kingdom. It can also be purchased at the toy section Rustans Department Store. Check out the complete list by logging on to http://rainbowloom.com.ph/store-locator/.
Like this post? Subscribe to this blog by clicking HERE.
Let's stay connected: