It's officially summer vacation for my kids. The most uttered line as early as now is "Mommy, I'm bored!". Now I've been seeing Rainbow Looms and Rainbow Loom bracelets on my timeline a lot. To help us decide if we should get one or not, we watched some Rainbow Loom videos on YouTube. Wow, I fell asleep and it seemed so complicated.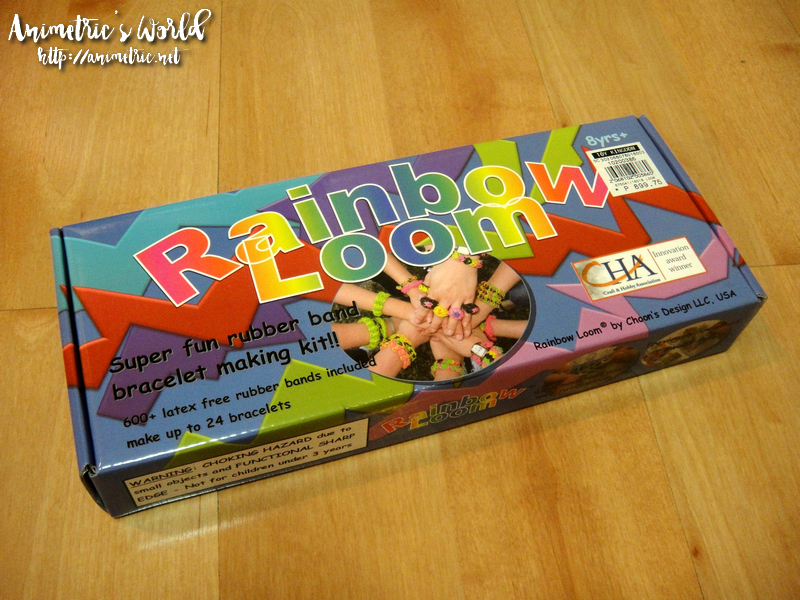 But then my daughter is still bored. So despite our lack of interest in the Rainbow Loom YouTube videos, I went ahead and got her a Rainbow Loom starter set from Toy Kingdom in SM Aura. Toys R' Us in Robinsons Magnolia was all out. Since I attended an event SM Aura, I decided to try and check if Toy Kingdom SM Aura had it in stock. They did and so I bought one.
A Rainbow Loom starter set costs P899.75. Not bad, considering it's around US$18 in the US. If you add sales tax, it comes out to around US$20 or almost P900. My kids got a generic loom kit as a party favor and my son got rashes and welts after touching the bands. Suffice to say I had to throw them all away because who knows what chemicals were used to make those bands.
Anyhow, my daughter and I unboxed our Rainbow Loom Starter Kit right away.
It's a small toy. I expected it to be bigger.
So the box includes 600+ multi-colored latex-free rubber bands, C-clips, the loom itself, a hook, a mini loom (the blue thing which also serves as a cap for the hook), and an instruction manual.
Here they are again.
Here's the hook uncapped.
My daughter got to work immediately. She read the instruction manual and decided to try making the simplest bracelet, the Single Chain bracelet.
You loop the rubber bands onto the loom in a specific sequence.
You can make many different bracelet designs, just tune into the Rainbow Loom YouTube Channel for complete video tutorials. Better yet, experiment on your own as you're limited only by your imagination.
These are my daughter's first Rainbow Loom bracelet creations. She's currently trying to make more and watching Rainbow Loom tutorial videos on YouTube for other designs.
Refill packs containing 300-600 bands and 12-24 clips (depending on the type of band) are available for P179.75 per pack and up:
Opaque / Jelly (600 pcs + 24 clips) – P179.75
Silicone / Metallic / Glitter / Two Tone (300 pcs + 12 clips) – P179.75
Glow-in-the-Dark (600 pcs + 24 clips) – P209.75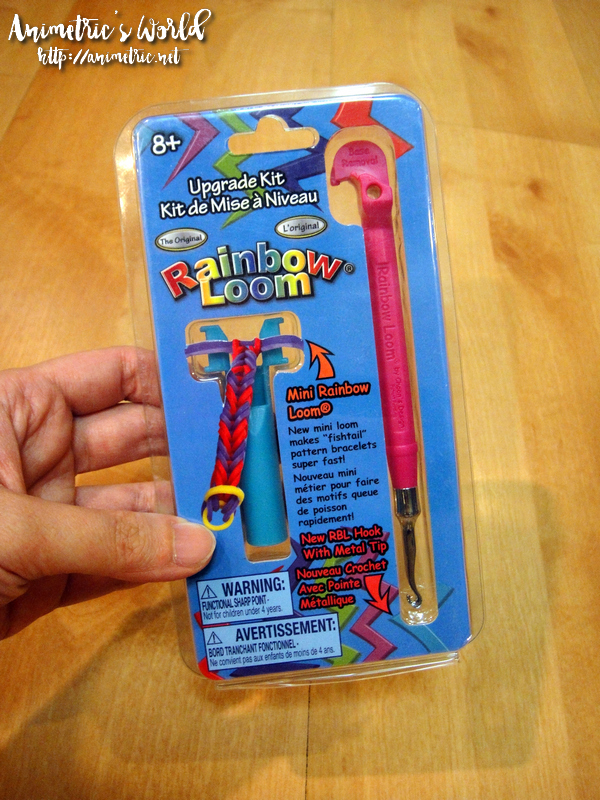 Rainbow Loom Upgrade Kits can be purchased for P249.75, you get a metal hook and a mini loom. There's also an expansion set of sorts called Monster Tail by Rainbow Loom which lets you make even more bracelet designs.
I hope this keeps her busy in the coming days, lol. I think it's a refreshing break from video games for her.
The Rainbow Loom starter kit new version with metal hook is available for P979.75 (they are no longer selling the old version with plastic hooks once stocks run out) at leading toy stores (Toy Kingdom, Toys R' Us). Log on to http://rainbowloom.com.ph/ for more information and a complete list of stores which carry official Rainbow Loom products.
Like this post? Subscribe to this blog by clicking HERE.
Let's stay connected: