Christmas is really the best time to be a kid. I remember looking forward to opening presents when I was a little girl. That said, no Christmas list is complete without toys… and I highly recommend the Rainbow Loom Finger Loom!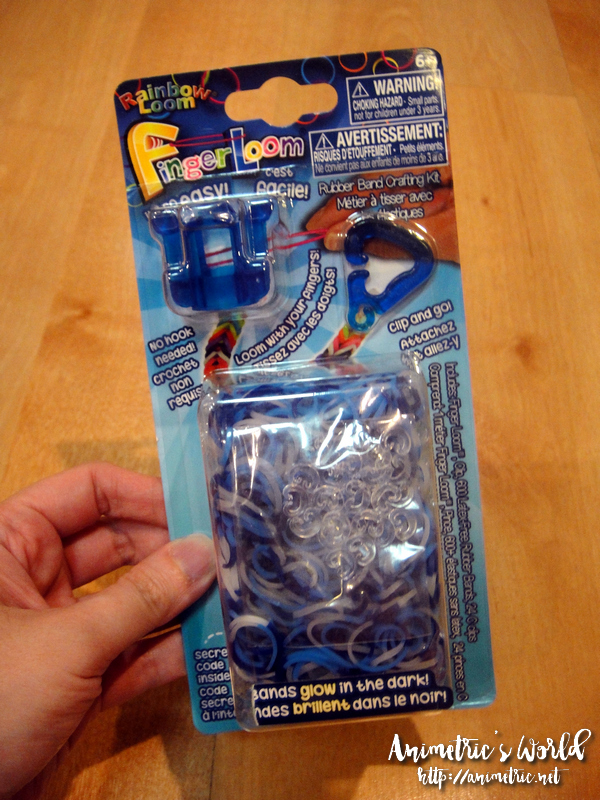 I've always favored toys and games which encourage creativity. So for my 3rd official gift suggestion, I present to you Rainbow Loom's newest product — Rainbow Loom Finger Loom (P249.75). This is super perfect if you're on a limited budget but want to give a child (or even an adult) something nice and interesting! At P249.75 per pack, it's pretty affordable.
Rainbow Loom Finger Loom kits come in many different color combinations (around 6 the last time I checked). We got blue-white and technicolor.
Small as it is, everything you need to make nice bracelets are in this kit. You don't need a hook, as the product name suggests your fingers will do!
Each kit comes with an instruction leaflet, a finger loom, a giant clip (not for looming, for attaching your unfinished bracelet somewhere convenient like your bag), rubber bands, and C-clips.
My daughter chose the blue and white kit.
The instructions are easy enough to follow but if you want to deviate from the basic bracelet, more complicated finger loom tutorials are available on YouTube. Or you could always experiment and create your own style.
Even I tried my hand at it!
If you follow the instruction leaflet, you'll end up making a Fishtail Bracelet. If for any reason you are unable to finish your bracelet in one sitting, simply attach the giant clip to the tail end and hook it somewhere to set it aside (your bag, your drawer handle, etc.).
Here's our finished product using Rainbow Loom Finger Loom!
What I like about Rainbow Loom Finger Loom:
It's super handy and portable you can bring it with you when you travel. It's a great way to pass the time while waiting for your flight, dental appointment, etc.
It's easy to store since it's so small.
It's affordable at P249.75.
It can provide hours of enjoyment plus it encourages creativity as it lets you experiment and come up with your own bracelet styles.
It's great for both children and adults.
Downside? None really, just don't let smaller kids who tend to put things inside their mouths get their hands on these.
Rainbow Loom Finger Loom is available at most Toy Kingdom and Toys R Us stores nationwide. Log on the the official Rainbow Loom Philippines website for a complete list of stores.
Like this post? Subscribe to this blog by clicking HERE.
Let's stay connected: