I went to RACKS SM Megamall for lunch a few days ago. I was surprised by its sleek modern look. It had been renovated. The brightly lit interiors are very welcoming. Whenever I eat out, I prefer going to places that exude a happy vibe and RACKS definitely fits the bill.
It was my first time at RACKS Megamall. It's pretty big! Since it was a weekday, I could order one of the RACKS Blue Plate Specials. Think of it as their version of the executive meal. Prices range from P255 to P385 per order depending on which plate you choose.
I ordered the Surf & Turf Plate (P385) while my companion had the Smoked Spring Chicken Plate (P285). Each of the RACKS Blue Plate Specials come with your choice of either Pink Lemonade or Dalandan Cooler.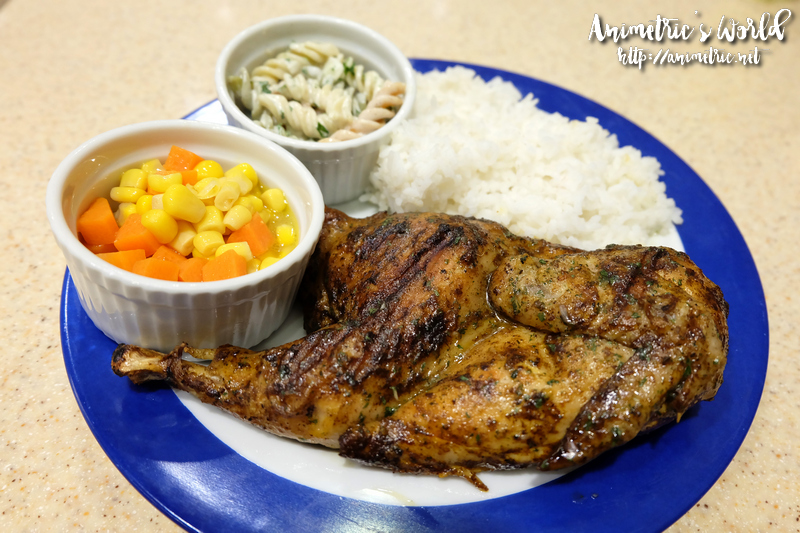 This is the Smoked Spring Chicken Plate. The chicken smelled so good! It was super tender too. For a moment there, I kind of wished I had ordered it lol. This meal is served with rice plus 2 sides of your choice. The sides here are Corn & Carrots and Pasta Salad.
I had the Surf & Turf Plate (P385). This plate has 1/2 Pork Rib, 1/2 London Style Fish, rice, and your choice of side. I had Baked Beans.
The Pork Rib is fall-off-the-bone tender. I also liked how crispy the fish was outside and how soft it was inside. One plate is so filling! I wasn't able to finish the rice.
Here's an insider tip from the good folks at RACKS. You can make your own version of their Barbecue Sauce by mixing Regular and Extra Hot together on a small plate. I went with a ratio of 1 portion of Extra Hot with 3 portions of Regular. Yummy! They actually sell the sauce so you can take a bottle or two home.
There are a total of 6 RACKS Blue Plate Specials to choose from. Aside from the ones we had above there's Chicken & Pasta Plate (P275), Fish & Chips Plate (P275), Rib & Chicken Plate (P275), and Soup & Salad Plate (P255). RACKS Blue Plate Specials are available on weekdays for dine-in and take-out.
Like this post? Subscribe to this blog by clicking HERE.
Let's stay connected: